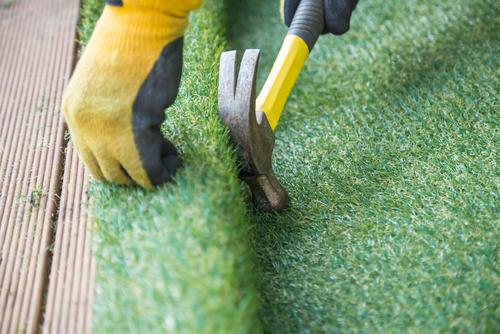 Many people are of the opinion that the best season for installing artificial grass is during the summer - well, this is not always the case! In fact, we're here to tell you why installing fake turf during the autumnal months can actually be just as beneficial for you and your garden.
But don't just take our word for it - we've put together ten of the best reasons why you shouldn't write off autumn as a time to make those garden changes you've been putting off all summer!
1. With the surface of your existing garden being slightly damper from the weather in autumn, it is actually easier to level out ready to install your artificial grass as there is much less resistance in the mud. Equally, the bursts of sunshine and warmth coming through give you time to enjoy being outside, too!
2 . People spend less time in the garden over the colder months, meaning your new lawn has plenty of time to settle in and take hold.
3. If you have children that enjoy playing outside, then you can rest assured knowing that they won't be bringing any muddy prints indoors - less cleaning for you!
4. The same also goes for those with pets - they also won't be bringing in muddy paw prints every day because there won't be mud for them to play in!
5. Installing artificial grass ready and in time for the colder months is advantageous because artificial turf has an efficient drainage system, meaning it is less likely to flood in the rain compared to real grass.
6. During the autumn and winter, real grass tends to grow a lot quicker - meaning it also needs to be maintained more often. Nobody wants to be tending to the garden in the cold, but with artificial grass installed there is no mowing involved - saving you both time and energy! More time for you to curl up with that well-deserved hot chocolate in front of the fire.
7. Investing in artificial grass means your lawn will be looking pristine all year round and not just during the summer months!
8. By getting your garden updated during autumn, you will also be preparing your garden for next summer, without having to do much maintenance at all! Remember to take care of your lawn if there is snow coming during winter though!
9. Installing artificial grass couldn't be any simpler, we can happily install it for you or if you wish to try it for yourself, here are some step-by-step instructions.
10. Last - but not least - who wouldn't want a lush green backdrop against the rustic ambers, reds and golds of the autumn fall? We thought so!
If you like the sound of the above and think artificial grass would work for your garden or front lawn, then contact the Artificial Lawn Company today and we can make it happen. Give us a call on 01474 364320 or contact us online today.