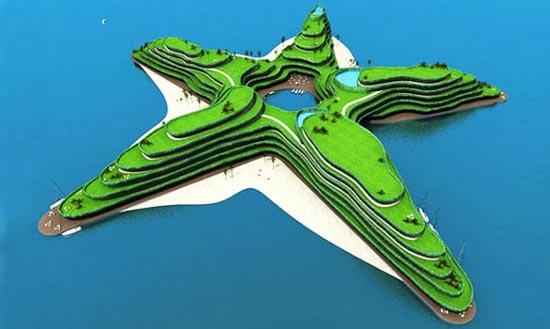 Synthetic grass lawns have proved their worth in today's society by offering a plethora of opportunities to transform your home interior and exterior into something magical and unique. However, other than the basic domestic uses of artificial grass, there are so many options when it comes to implementing synthetic turfs in commercial and sports purposes. A very popular alternative it seems to be is the classic trend of miniature golf courses. In this article we will be taking a look at some of the most innovative golf course designs known to man that will surely give your perceptive of golfing a run for its money.
'Just One Bite'
The design of this golf course is said to be both a representative of the location and of course, a truly unique plan. Designed to be based in South Australia in Port Lincoln, this golf course is to be shaped like a great white shark with intricate detailing outlining the shark's gills, underside and fins. The most interesting aspect of this golf course design is its apt situation where the area is prone to an abundance of great whites and even where some of the most famous Jaws scenes were filmed.
According to golf vacation insider, the developer, Dean Lukin Jr., says that the shark-shaped course "should help to draw a lot of international visitors to Port Lincoln".
'The Star of the Show'
This star-shaped golf course is undoubtedly one of the most interesting uses of artificial turf yet. The holes of the course are said to sit on top of a collection of floating platforms and in order to move to the next hole, golfers must use a series of underwater tunnels.
However, the course has yet to find an investor willing to take on the years of construction that come with it. Although, in saying this, it has been rumoured that none other than the royal Troon Golf club have been consulting on the project.
Monster Mini Golf
This golf course is fun, exciting and potentially terrifying all at the same time so the real question is, are you willing to say hello to the monsters under your bed? The scary yet thrilling monster décor in this glow in the dark course work to amuse the given audiences while providing them with incredibly fun activities that hide around every corner.
In addition to this, in many monsters mini golf courses across the world an array of animated and custom props have been included to make the experience all the more electrifying. With décor including clown heads, ghoulish creatures and chilling, leafless trees this golf course is definitely one of a kind and well-worth a try.
These are just three of the most creative and fun golf course designs in the world. If you're a business or even a home owner looking to create a miniature golf course in your back garden or on an available property and require the essentials, the Artificial Lawn Company offer a vast range of synthetic grass lawns designed to accompany you in your endeavours. For more information, please get in touch today.