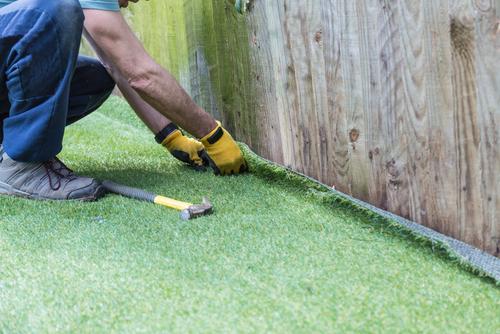 Artificial grass is by far the most effective and attractive solution to all your patchy grass and unattractive gardening woes. Because of its durability and versatility, fake grass can be a great feature in your property, both indoors and outdoors.
In fact, it has now also become incredibly popular with balcony gardens and conservatory flooring as well being used traditionally in your outside space.
However, installing artificial grass correctly is crucial in order to achieve great, long-lasting results. You don't need to be a gardening or landscaping expert to successfully install artificial grass yourself, either. Our installation process is so simple that we are confident that anyone can do it given the right tools, equipment and a helping hand!
It can be easy to make mistakes or encounter hiccups during the installation process if you're unsure of the method, but the good news is that these mistakes can be side-stepped by avoiding the following most common mistakes.
Uneven Surfaces
It is incredibly important to ensure your working surface is completely even, as even the slightest bump or incline can ruin the visual aesthetics of your newly purchased lawn (think brand new carpet over a lumpy bumpy floor and you'll know what we mean). Also, make sure you use a quality weed barrier too as weeds can grow through the artificial grass (because of the rows of turf), which can be frustrating as well as unsightly.
Inadequate Drainage
There are various underlayers that can be installed underneath your artificial lawn and it is important to get this right if your garden is on an incline or lawn is prone to flooding thanks to puddles. Laying base materials underneath your fake grass - such as a shock pad on top of the sand - can ensure that any pooling water is adequately drained away.
Not Thorough Enough
Even the perfectionists out there can overlook the smaller details - such as securing and neatening edges of a new lawn. Not securing the edges of your lawn properly can cause it to curl and fray at the corners, which is not only a tripping hazard but can also end up looking a little scruffy and unfinished whilst letting debris and other elements get underneath your artificial lawn, too.
Not Doing Your Research
By reading this article and our top tips, you are already on your way to installing artificial grass like a pro - as knowing what to do and what to avoid is the best place to start.
It is always best to know what type of artificial grass best suits your needs and identifying how much you will need as well as the equipment, tools and accessories you will need to get the job done. With our installation guide at your fingertips, you've got everything you need to get started!
Not too keen on installing artificial grass yourself? Don't worry, here at Artificial Lawn Company we also offer an installation service and our experts are happy to install your turf for you.
If you are thinking of investing in artificial turf to give your garden the makeover it deserves, then feel free to give us a call on 01474 364320 today and we will be happy to help.
Looking for help installing? Request a quote below.