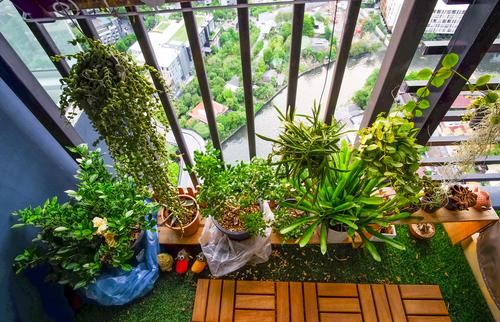 While many of us dream of having a large garden to do with as we please, sometimes we have to make do with a humble balcony, but that is not to say you can't get creative.
If you live in a flat or apartment building, you most likely won't have an actual garden where you can retreat to when the weather is nice. Instead, you are forced to settle for a deck chair or two on the balcony.
It doesn't have to be this way, though, because with a couple of plants and some cleverly used artificial grass your balcony can be transformed into a private haven.
Bistro Table
Designed suitably, a balcony can be used as an extension to your living quarters, doubling up as an ideal exterior dining room. A bistro table suitable for two will give you somewhere to wine and dine outside when the occasion calls for it.
Artificial Grass
As real grass is unsuitable for balconies for many obvious reasons, artificial grass provides a synthetic solution that will help to make your balcony feel much more like a garden. The surface will not require any water or cutting, needing very little maintenance overall.
Mix and Match Flower Pots
Every garden needs to have a selection of flowers, although more thought has to be put into how they are stored on a balcony. Not only should you consider the types of flower, but also consider the pots that they are planted in. Mix it up, rather than settling for the same design for each plant - variety is the spice of life!
Border Trellis
One of the downfalls of balconies can be their distinct lack of privacy. Everyone can see you when you are sat on your balcony; however, you also run the risk of feeling closed in if you erect fencing along the balcony. Border trellis is an ideal solution if you want to experience the best of both worlds, and this also gives somewhere for plants to grow up, creating a natural setting.
Herb Garden
A lot of gardeners will plant herbs in their gardens, and it should not be any different for those looking to make the most of the limited space on their balcony. Place small trays of herbs on an outside shelving unit and watch them grow. Not only will they be a great addition to your balcony garden, but will also serve a purpose in the kitchen.
If you are looking to redecorate your balcony garden this summer, you may want to consider requesting free artificial grass samples to help decide on what works best for you. For more information, please call our team on 01474 364320 today.