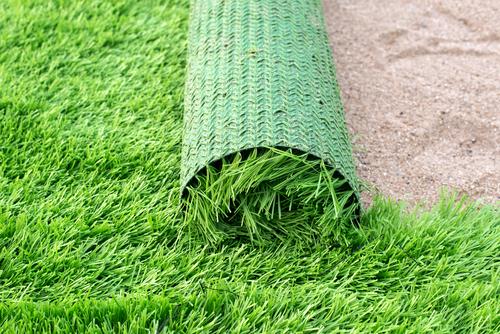 Artificial turf can make an effective and attractive solution to your grass and gardening grief. Because of its durability and versatility, it can be a great feature in your property, both indoors and outdoors.
However, when you are looking to add artificial grass to your property, it is vital to follow the correct technique for your artificial grass installation. The installation process is usually a quick and easy task, leaving you with great, long-lasting results.
If you are an artificial grass rookie, here are five of our top installation tips, straight from the experts to get your garden looking its best in no time at all.
Which Type of Artificial Grass is Best for You?
Before starting the artificial grass installation process, it is important to carry out some thorough research. Make sure that you know which type of artificial grass works best for you, how much turf you will need, and familiarise yourself with the steps of installation. Once you are well-prepared, the task is guaranteed to be a success!
Eliminate the Risk of Weeds
Unsightly weeds are the last thing you want to see cropping up in your newly-renovated garden. To eliminate the risk of weeds, make sure you install a good sub-base and membrane. The membrane is made of plastic and should be installed under the grass surface to stop the weeds from growing. The sub-base prevents the grass from sinking in, helping it to last even longer.
Address Uneven Surfaces
How would a carpet look when rolled out on an uneven, bumpy surface? That is exactly how artificial grass would look if laid out on a rough, uneven surface. Therefore, make sure to remove any unwanted stones and rough material to create a clean, even surface. Lay the grass out only when you have achieved a nice flat base as even the slightest bump could play havoc with the look of your lovely new lawn.
Organise Proper Drainage
Despite this being an essential component of the installation process, many people often forget to put a proper drainage system in place. Bearing the typical English weather in mind, it is particularly important to have a good drainage system in place to avoid damaged, water-logged grass. For an effective drainage system, you should install a deep base below the grass, filled with materials like sand and crushed concrete.
Secure the Edges
Once you have installed your grass, make sure to neaten things up and remove any uneven joints. Don't forget to secure the edges properly to stop them becoming frail and curling upwards. As well as looking untidy, loose edges can cause serious problems for your lawn. Water and debris can easily get trapped under the edges, causing damage to the grass surface. It is also dangerous to walk over loose edges as you can easily trip and fall.
Expert Artificial Grass Installation
Although artificial grass installation isn't tricky, some people still prefer to guarantee a top-quality finish by enlisting the help of experts. Here at the Artificial Lawn Company, we are happy to carry out your installation for you. Our experienced team will install the artificial grass of your choice and give you unbelievable results - just leave it to the experts and get ready to enjoy a brand new garden experience.
If you would like further information or a bespoke installation quote, please get in touch with us today.