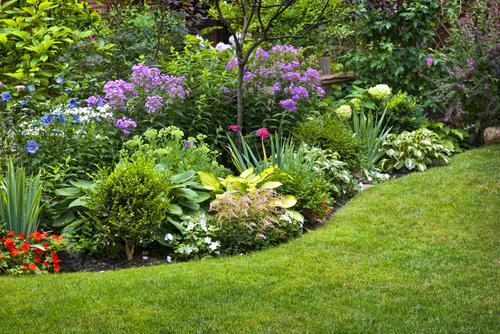 Being house and garden proud is admirable, but in this day and age, there simply isn't enough time in the day to work full time, look after the kids, have a semblance of a social life, go to the gym and have a home and garden that look perfect all the time. And that's okay, but there is an easier way to ensure your garden looks great all year around with very little time needed from you and your ever packed schedule.
The simple answer is adding artificial grass.
Fake lawns are great. Not only can they be installed in a matter of hours, but they also look great all day, every day for 365 days a year, with almost no maintenance at all. No more mowing the lawn, no more grass stains on the kid's clothes and instant satisfaction looking out the window at a perfectly manicured garden every day.
The one thing that is missing is that buzz of wildlife you get every time you step foot out your back door. The crickets rustling, the bees buzzing and the birds hopping around, but you can still have all of this and more with just a few simple steps.
You might have artificial grass in your garden, but you can still attract the biodiversity and wildlife that any healthy garden needs. Keeping a garden looking good does take a little bit of time and effort, but without the burden of mowing the lawn, you'll have a few hours spare!
Here are our top tips for attracting all things wild and wonderful to your garden.
Having a fake lawn means you can go all out with the flowers. Choose flowers that provide pollen and nectar to attract bees, butterflies and other insects the whole year round. You can find a list of suitable flowers here
Add in some trees, shrubs and wall climbers to provide adequate shelter for insects, birds and even hedgehogs. Not only that, but they provide flowers, fruits and seeds for them to eat, too
Adding a water feature is an excellent way of encouraging wildlife in your garden. It doesn't have to be big or extravagant, but it will attract an incredible mix of insects and even frogs and newts. We don't recommend adding fish as birds are likely to make a meal of them, but adding water plants is an excellent way to give insects and water creatures a little protection and cover, as well as looking pretty, too
Add a log pile in a quiet corner of the garden, adding instant and much-needed shelter for many insects like beetles. Choose natural wood and bury them ever so slightly for additional, undisturbed cover
Make your own compost from garden and household waste to nurture your soil and plants, giving as much back to the ground as you can. It's also a great place for worms to congregate and they'll help your compost along much faster, too
Have a bird table with food and water, or a nesting box, but ensure these are out of reach of naughty cats
More garden wildlife tips can be found here, at Thompson & Morgan.
With so many easy ways to attract wildlife to your garden with minuscule effort and maintenance required, you will have a wild and wonderful garden all year round with none of the hassle. Now, you can sit back and relax safe in the knowledge that your artificial grass not only looks great but doesn't slow the biodiversity down either!
For more information on artificial grass and the installation process, please visit our website or contact our customer service team on 01474 364320.