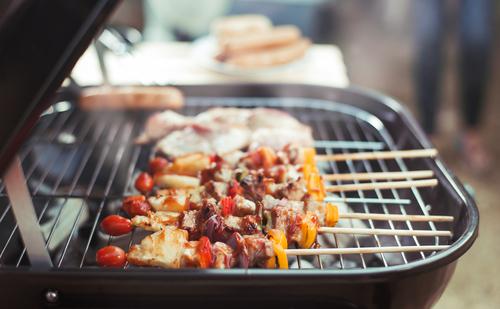 For many people, summer is seen as the perfect season for holidays; sun, sea and sand, and of course, barbeques! Some people choose to have BBQs while out and about on holiday, but others prefer to stay closer to home for their summer barbeques. Although garden BBQs are a common sight on warm days up and down the country, you should always be careful when considering firing up your barbie around artificial grass.
Artificial grass is the perfect accompaniment to any garden, but it is essential to keep in mind that BBQs and fake grass don't mix.
Stay Safe With Your BBQ
Synthetic grass is durable and robust, but it isn't designed to cope with the extreme temperatures of a barbeque. The easiest way to avoid a fake lawn disaster is by keeping the two separate at all times. If you have a patio, a good tip is to keep the BBQ confined to this area and only sit out on your artificial lawn once the food is cooked.
Even if you keep the barbeque away from your lawn, the chances are that crumbs and debris will still find their way onto the turf - especially if the kids have invited all their friends over! Luckily, artificial grass is easy to clean, so you should easily be able to remove any remnants of food once the party is over. Simply hose the lawn down or mop up any troublesome stains to leave your garden looking as good as new.
However, this doesn't mean that you shouldn't have a barbeque in your garden at all. As long as you are careful and use common sense throughout the process, there is no reason to avoid this classic summer staple.
Summer Garden Picnic
Of course, if firing up the barbie isn't really your cup of tea, why not make the most of the weather and have a garden picnic instead?
Picnics provide a quick and easy way to eat outside in your garden without all the extras you need to factor in with a BBQ. Simply spread a picnic blanket out over your artificial grass, set out the food, and you're good to go. Perfect for families; get the kids outside and share some delicious picnic food with your loved ones this summer. What could be better?
For more information about artificial grass and the services that we provide, please give us a call today on 01474 364320.