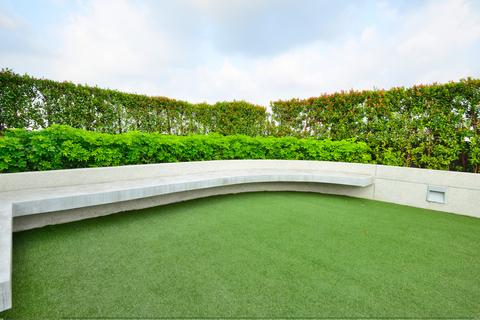 Artificial grass has quite literally reached new heights in the past few years. From a decorative blend of patio and false grass to acting as a finishing touch for roof top gardens, its versatility has proved useful in many gardens across the UK, and further afield.

A fair few unique uses for fake grass have popped up since its continuing rise in popularity. Today though, let's get back to basics and see some solutions that enhance aesthetics and offer practicality in equal measure.

Below ALC have compiled just three ways to use artificial grass for all storeys.

(Artificial) Grassy Patio

Whether your patio consists of a beautiful, mosaic style or you opted for sleek and simple, fake grass is always a great option; and the best part is that there are so many ways to incorporate it!

You may want a slice of fake grass beauty, by bordering the tiles or, if you want to utilise it to its full potential, you could completely renovate, placing the tiles in a circular shape around a generous patch of false grass.

However you decide to use fake grass with your patio, remember to use your imagination!

Balcony

If you're lucky enough to have a balcony, you may be wondering how you can spruce it up a little. Well, rest assured, we have a solution that will fit the bill nicely. False grass is ideal for balconies, thanks to its lightweight, yet durable nature. It can withstand a heavy flow of traffic on a regular basis, as well as resist the classic 'faded shade' in the sunlight, maintaining its lush green appearance all year round; wow!

Rooftop Garden

Rooftop gardens are fantastic for homeowners who want that little bit of extra space, without having to extend rooms or build a whole new conservatory. Providing you have the right kind of space to accommodate such a feature, they can look brilliant and, what's more, is that they have plenty of potential, especially when it comes to flooring. For a soft, attractive underfoot surface, fake grass is the one for you. And, with such a wide range of styles, you can tailor your flooring and rooftop garden to meet your specific needs.

These are just a few examples of artificial grass on all storeys, and why this surface is so ideal for all three.

If you're interested in artificial turf installation for any of these purposes or more, please feel free to get in touch today with our expert team. Alternatively, see our site for our artificial grass styles.