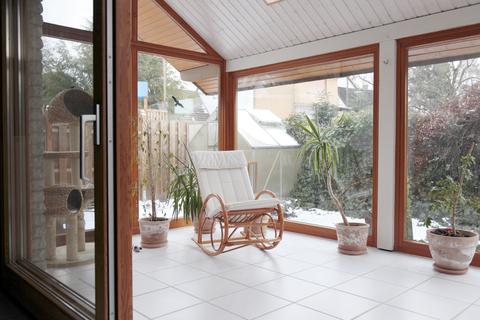 Home conservatories are wonderful if you need the additional space or fancy an extra room backing onto the garden. However, you may be wondering how to make the most of this space in a way that still allows for a dining area, suitable for home cooked meals and the occasional takeaway.

Luckily, there are a few ways you can transform this area of the home into a romantic spot or child-friendly space with help from ALC.

In today's blog post, we will look at two different approaches to decorating your home conservatory, both of which incorporate the very practical and aesthetically appealing fake lawn.

Picnic Heaven

If your little ones can't get enough of packing a picnic basket and heading into the garden for a light lunch, we can only imagine their disappointment when it starts to rain. Now that winter is here, the possibility of having a picnic in the garden is even rarer, so why not keep it inside?

Give the walls a splash of vibrant paint, lay an artificial grass rug and get decorating! There are loads of little trinkets lying around in arts and crafts stores that can transform a plain conservatory into a dedicated picnic heaven.

You can pick up a few artificial flowers to place on the lawn, which will give it the look and feel of a pretty little meadow. Or you can buy matching plates and cutlery in a checked pattern for a classic picnic experience.

Artificial grass is perfect for children with allergies who don't normally get the opportunity to enjoy a picnic on the lawn, and they can even sit on pillows for a bit more comfort. View www.artificiallawn.co.uk for industry style fake grass today!

There are lots of different styles of fake grass, meaning you can pick the best one for you and your children. The neighbours will be green will envy, so don't be surprised if they want to join your picnic and enjoy a light lunch too.

Fine Dining

If you want something special for the adults, you can always go down the route of fine dining. Artificial grass isn't just for children; it can create an equally divine dining experience for grown-ups, with just a little bit of creativity and vision.

If you want to go all out, you could sprinkle a few petals on the grass and have a picnic-inspired dinner on the lawn. Alternatively, you could have the grass beneath the dining table for a spot of nature between your toes.

Like with the picnic themed conservatory, popping a few artificial plants around the grass can spruce up its appearance and make it feel a lot more romantic.

So, pop open the bubbly, dim the lights and settle down for a lovely, adults-only dinner on the lawn.

If you'd like to create one of these scenes, or if you have your own ideas for using a fake lawn, please feel free to browse our collection of artificial grasses. Alternatively, for any general queries, contact us today via our website.