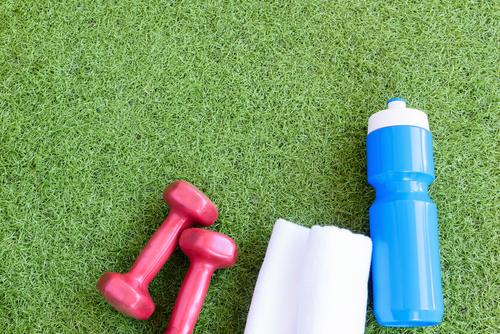 Schools and sports centres are turning to artificial grass surfaces more and more - and it's not surprising why. There are two key reasons why faking it is their first choice: to cut down on maintenance costs and the fantastic all-weather capability of an alternative to traditional grass.
It is no secret that Britain is famed for having the most uninviting weather around. In fact, venturing outside the house is not something that is easy - or enjoyable - to do all year round. Often, we stare out of the window at grey clouds and rain, longing for the days in the summer when the weather does hold up and we can get outside in the sun.
Artificial Sports Turf
To combat this very British issue, more and more schools and sports centre are investing in artificial grass for all weather pitches, meaning that the turf won't suffer from water logging after a downpour.
Why make the change? Real grass becomes wet and muddy and this can be unsafe, especially when the intention is to have a game of football. Artificial sports turf is designed to absorb the moisture and remain a safe and playable surface, reducing the risk of injury.
Less Maintenance
While types of artificial grass are designed to withstand poor weather and the rough and tumble associated with sporting activities, there is also less requirement for maintaining the surface.
Beforehand, a groundsman would be needed to tend to the surface where there might be patches of mud and other signs of wear and tear. With artificial grass, there is no need for a lawnmower, much less having to get the forks out and drain away the moisture.
Schools, in particular, have begun to invest in artificial grass due to the low costs associated with the lack of maintenance, and also because students are considered much safer on fake grass during inclement weather while simultaneously eliminating the prospect of tedious grass stains on uniforms, too.
Better Performance
As well being a suitable all-weather solution, artificial grass will also help to improve performance - and much of this is due to the technology that has been used to develop the surface.
Whether playing tennis or basketball, sand filled Tough Lawn gives a much firmer and truer bounce of the ball compared to real grass. Artificial sports turf, when laid correctly, can also ensure a perfectly smooth playing area with no uneven areas that could hamper performance and increase the risk of injury.
For larger dedicated sports areas, Artificial Lawn Company can offer a range of other grasses that are not in our standard range. If you have such a requirement or would like more information on artificial sports turf, please feel free to get in contact with our team on 01474 364320 or email us on sales@artificiallawn.co.uk