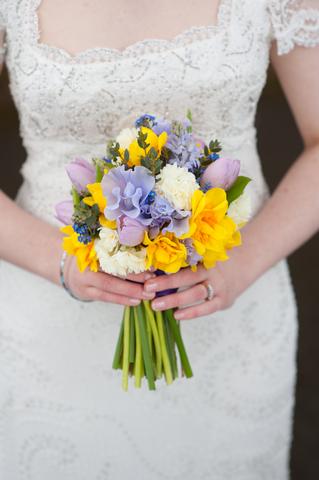 A wedding is one of the most important days of a person's life. Not only is it a declaration of commitment and love, it is a chance to get together with family and close friends to celebrate the beginning of your marriage. Though the day itself will be unforgettable, there are little details concerning not only the bride and groom, but also the venues who are pressured to ensure the day goes smoothly.

For venues in particular, creating a picture-perfect scene for the wedding can be a real challenge, especially with the UK's temperamental weather conditions going against planners. Whilst we can't control the weather, we can keep an eye on weather reports and such related news. In saying this though, this might not grant enough time to get everything prepared and ready in the case of an outdoor wedding during spring time.

This isn't the only problem brides and grooms face with an outdoor wedding though. From grass stains on a white wedding dress to strong winds blowing over the garden arch during the big moment, all of this can become a big tangle of stress which isn't going to do anyone any favours.

So, instead of panicking, why not create the perfect outdoor scene for any spring wedding by using artificial grass. Not only will it avoid ruining a beautiful wedding dress, it looks realistic and stays green all year round. Not only is this perfect for spring weddings, but weddings in the summer, autumn and perhaps even the winter too!

Below ALC have listed just three places where you can use false grass for spring weddings.

'Here comes the bride!'

The space where the aisle will be is one of the best places to install artificial grass. This is because it gives brides a lovely, almost natural setting and the grass will provide an even surface to walk on when blushing brides walk the aisle up to their groom.

Reception

On the flip side, if you find that outdoor receptions are far more popular at your venue; artificial grass can be great here too! Not only will it look purely brilliant all year round, it will add something special to your location. The grass' lasting appearance is sure to make an impact on potential brides and grooms, and it will set you aside from the rest.

Photo Settings

Lastly, if you find that your brides and grooms are constantly striving for that perfect photo, you will want to make sure the background is equally perfect. Enter artificial grass. Its realistic yet stunning and patch-free appearance will make any photo better without taking away from the actual stars of the snap.

So, if you're interested in instaling artificial grass at your wedding venue, please come and have a look through our exquisite collection. Alternatively, feel free to get in touch with us if you have any queries about installation costs and so on, through our website. We look forward to hearing from you.