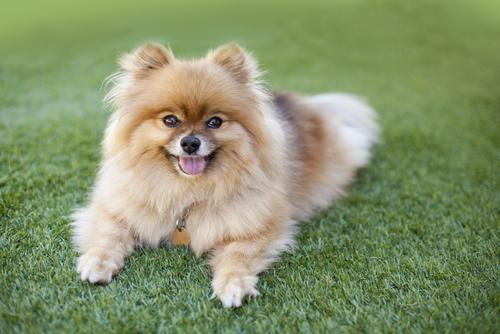 Understandably, many homeowners want nothing but the very best for their gardens. The garden is an extension of the home, and for house-proud homeowners, it deserves just as much attention as the interior space. From careful landscaping to design features to hours spent toiling over maintenance tasks and plant care; plenty of hard work goes into making a garden look great.
That is why, on those occasions when things do go wrong, and everything doesn't turn out just right, it can be justifiably exasperating. Even the keenest of gardeners can sometimes struggle to transform that vision of the perfect garden from a dream into a reality, and this can lead to a generalised feeling of dissatisfaction with your garden.
Here at the Artificial Lawn Company, we know how important your garden is to you. We understand how frustrating it is when things don't go to plan; when you end up with unsightly bare patches in the middle of your lawn; when grass inexplicably yellows or starts to die for no reason, or when the kids or dog churn up your carefully manicured lawn and traipse muddy foot (or paw) prints throughout your home.
Luckily, we have the solution to your lawn care problems and gardening woes.
Artificial grass is the perfect way to overcome these issues and ensure your garden stays looking fantastic all year round. No more will your home and garden be mismatched - with fake grass; your garden will be kept looking just as neat and tidy as your home.
Why Choose Artificial Grass?
Lush and green, with the addition of top-quality synthetic grass, your garden will be the envy of your neighbours. In most cases, the garden is the first part of your property that any guests will see, so if you are trying to impress, a noteworthy garden is essential. After all, first impressions are the ones that count the most! A garden that reflects your personality is vital - and since you have put all that hard work into the upkeep and maintenance of your garden, you will naturally want to show it off as much as possible!
It isn't just the aesthetics that are important, though, as artificial grass can have a whole range of other benefits too.
Artificial Grass for Dogs, Kids, and the Whole Family
We all know that children and pets can play havoc with your garden. From digging holes to uprooting plants to leaving toys hidden in the middle of your lawn for the lawnmower to run over and break; keeping your garden looking beautiful despite all this can be tough. Fortunately, artificial grass makes for a multi-purpose garden which is well suited to you, the kids, and the dog.
The benefits of switching over and installing artificial grass are many. Save time and allow yourself the freedom to focus on other parts of your garden by removing the tedious chores of lawn upkeep from your garden maintenance routine. Say goodbye to the mundanities of weeding, watering, edging and the never-ending cycle of mowing - while still enjoying the feel and appearance of a lawn that looks better than ever before!
When it comes to the kids, you will, of course, want to encourage them to take games and playtime outside into the fresh air. With a fake lawn, you can let them run wild without needing to worry about the state your garden will be in afterward. Durable, hard-wearing artificial grass will allow the kids to run around and have fun while still leaving your lawn looking just as good at the end of the day.
Similarly, fake grass is ideal for letting the family pets have a run around while keeping your lawn in good condition. Banish muddy pawprints for good and save yourself the hassle of having to clean your floors constantly, as your pooch will be able to walk in and out of the house without causing any issues for you. You needn't worry about them doing their business on your lawn, either, as synthetic grass is permeable, allowing any liquids (including excess rainwater) to quickly and easily drain away.
So now that you know the overall benefits of a fake lawn, how do you know which type is best for you? Different areas, homes, and businesses require diverse types of artificial grass dependent upon factors such as space, usage, and durability.
Choosing Artificial Grass: London
When it comes to artificial grass, London is one of the perfect locations in which to utilise the unique benefits of this material. As is characteristic of such a built-up urban area, many homes in the city of London typically have little or no garden space at all. This means that it can be hard for those who do live in the city to enjoy the benefits associated with appreciating time outdoors in the garden. Of course, there are plenty of public parks and green spaces dotted around the city, but there's nothing quite like a relaxing afternoon spent in your own garden.
Fake grass is perfect for smaller gardens with limited space. Artificial grass can transform the look of a tiny city garden in an instant; providing the type of lush, green grass usually only seen out in the countryside. You needn't worry about tall buildings limiting light to your city garden, either, as lack of sunlight won't affect the quality of fake grass. Got a balcony garden? Artificial grass can add a touch of greenery to areas where real grass is just impractical. Gardening and green space has also been proven to provide a positive effect to your mood and mental health, so going green is definitely worthwhile. It also requires only a limited amount of upkeep, making it ideal for those who are currently living the busy city lifestyle.
Artificial grass is also useful for schools within London and the surrounding areas. Increasingly, fake grass is becoming a popular alternative to natural grass or other surface coverings, like tarmac or woodchip. This is because specific types of synthetic grass designed for use within schools and playgrounds are hard-wearing, durable and resistant while including a safe, impact-absorbing underlay to protect children from accidental falls and trips.
Choosing Artificial Grass: Kent, Essex and the South-East
If you live in a more residential area with a larger garden, fake grass can still work for you. Transform your garden with artificial grass; Kent is known as the garden of England, so make sure that your garden is up to scratch!
When installed correctly, fake grass has the power to change the look of your entire garden. Whether in Kent, Essex, or further afield, choose artificial grass to make sure that your garden is looking its best throughout the year. The South-East of England is one of the warmest and driest parts of the country, but with fake grass, you don't have to worry about the weather or climate affecting the look of your garden. Upholding high standards within your garden can be tricky, but switch to artificial grass to make things much easier to manage. Quick to install and simple to maintain, it isn't hard to see why artificial lawns in Kent are so popular.
Plus, if you are worried or need some help to install your brand new fake grass, our expert team of professional fitters will be more than happy to come out and assist in the installation process. Installing artificial grass; Essex, Kent, London, or elsewhere in the South-East, has never been easier.
For more information on the uses and benefits of artificial grass in your local area, please give us a call today, on 01474 364320.