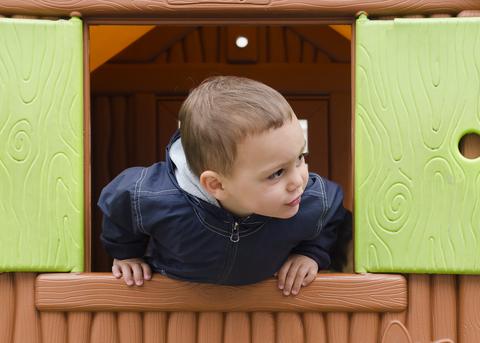 So the kids are bored and hanging off your trouser leg. They want something to do, but you're not sure what. You have time and energy on your side, but a lack of ideas. Lucky for you here at www.artificiallawn.co.uk we are full of ideas! How about getting stuck in and building a Teletubby themed playhouse for the little ones to hide in. Building a den or a base was always fun when you were a kid. Being under the age of 10 and having a space you could share with your friends was quite possibly the greatest achievement you could have at such a young age. It was away from the parents and created limitless possibilities, while giving a pseudo sense of independence; not that we knew it as children.
Recreating a playhouse with your children will not only give you that warm, fuzzy nostalgic feeling, but it will also give you a fantastic bond and create a memory that will last a lifetime. So, to get your Teletubby themed playhouse up and running, read below for some fun and informative tips that will have you and the children playing in the house in no time.
Having children, you will no doubt have seen the international phenomenon that is Teletubbies on your TV, during which time you would have observed the fantastic eco home they live in. It's a house made from grass, which has gone on to inspire architects to design real-life grand designs. Ok, we know you don't have a spare £10,000,000 lying around to create your own, but money is no issue here. For more great fake grass ideas click here!
For your mini grand design, you're going to first need a structure. For this a great idea is to get yourself down to the nearest scrap yard, truck yard or any industrial estate where you can grab a couple of free pallets. Companies are overloaded with pallets and are always trying to get rid of them. Three of these will be fine. You will want to stand these up and put them on their side, in the shape of a U. Butting up the edges, you will have the beginnings of your playhouse. To give the house some stability, drill some screws into the joints, so the pallets don't collapse
To give the house some shelter, lay a sheet of ply across the top. This will not only keep the elements out but will enclose the playhouse, thus giving it a sense of secrecy. It's right about now that you will start to get the kids attention. Now comes the fun part. If you have any leftover artificial grass, simply nail the leftovers onto the pallets. Already your playhouse will start to look like the Teletubbies home. If you don't have any leftover lawn, the cost of artificial grass from the Artificial Lawn Company is very reasonable. It also gives your den more character than a mass produced product.
Your eco camp should now be ready, and the kids will be itching to get in there and play. To add a few more finishing touches, why not get some old cardboard loo rolls and make a periscope. Simply slit a hole in the grass and feed the periscope through the side of the pallet and grass. It's then up to the kids to decorate the inside with log stump chairs, twigs, leaves, pinecones and anything else they feel will make the inside look more homely. All that's left for you to do is serve them up some tubby custard for them to enjoy from the security of their new den.
For more great ideas based around fake lawns or to learn more about what the Artificial Lawn Company can offer, feel free to browse our website.