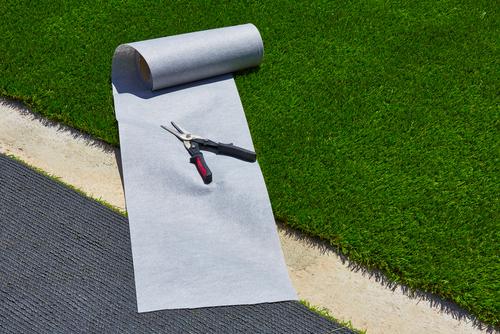 If you have been thinking about giving your garden a makeover, then you will be familiar with the world of fake lawns by now. Long gone are the days where these artificial turf lawns would stick out like a sore thumb, far from it; these days, the materials used are far superior and higher quality than ever before - making this option feasible for many homeowners.
When it comes to your garden, we have a range of services available to you, including artificial grass installation. For those not within this catchment area, worry not! We have step-by-step guidelines for you to lay your new lawn yourself - and the results will speak for themselves.
Artificial Grass Installation Process
This service is available for all of our customers across London and throughout the South East of England. Not only will our highly professional and experienced team install your new lawn for you, but we deliver a first class service with a smile, too.
You can sit back and relax while our team gets to work in your outdoor space, and before you know it, the garden you have always dreamed of will be right before your eyes.
Not only do we provide a no-obligation appointment with you to explain the process and benefits of artificial grass installation prior to quotation, but we do all the hard work for you, too.
On the day of your install, our team of artificial grass installers will clear your garden, lay your new grass perfectly to a 'T,' and then clean up after themselves, leaving no trace of our presence except for your wonderful new lawn!
Different Grasses for Different Needs
The reason behind your need for artificial grass should be considered before choosing your next lawn. While many people are simply looking to improve their garden from a visual perspective, others are motivated by their pets, their available space or how they use their gardens. Even businesses make use of artificial lawns, both inside and outside of the workplace!
If you are simply looking to improve the aesthetic appearance of your garden, then feel free to browse our entire range of fake grasses - your only limit is your budget.
However, if you have pets, namely cats and dogs, which love to be out and about in the garden as much as you do, then we also have a selection of suitable grasses that are completely safe and will stand up to the wear and tear that pets can often have on lawns.
No longer will there be discoloured patches where your pets have been marking their territory; no longer will you have to endure muddy paw prints after the rain, and no longer will you need to feel frustrated when they start digging up the garden - because they won't!
Our lawns are perfectly safe for pets, with a soft and comfortable feeling underfoot. However, for the feistier pets that have bundles of energy, we also have lawns that require very little upkeep and won't look downtrodden at all.
All of our lawns that are suitable for pets are durable and hard-wearing for longevity.
Our range of artificial grasses are suitable for use on balconies, rooftop gardens, indoor playrooms and much more besides. Many businesses utilise them as part of displays, exhibitions, and even sales pitches, too!
DIY: Your Artificial Grass Installation
Although our team of artificial grass installers are on hand to assist our customers living in London and throughout the South East of England, the artificial grass itself is actually very easy to install.
With a detailed set of step-by-step instructions to follow, the job can be done and dusted in just a few hours work - with a wonderful new garden to show for it!
Once you have selected your new lawn preference, it's time to measure up! This allows you to make a more informed decision on how much turf you need to order, to complete your garden. As well as the lawn itself, you will need to order kiln dried sand, basic garden tools, weed membrane, and shock pads (if necessary), lawn adhesive and jointing tape.
Full instructions on the artificial grass installation processcan be found on our website, but we have summarised it for you right here.
Prepare your existing garden by stripping grass, weeds, and vegetation
Level out your soil and ensure you have a firm, flat foundation to work with
Spread a thin layer of sand and consolidate
If you have a weed membrane or shock pad, this is when you should lay this. It will ensure your new lawn is free from weed growth and is easily utilised for sports and activity
Roll out your fake lawn and ensure the pile is running in the same direction for all pieces. Hold in place with a small application of more kiln dried sand
Cut your artificial grass down to size, before applying adhesive and jointing strips
Add another layer of sand and brush this into the pile with a stiff brush to encourage the grass to stand upright (it is recommended that you repeat this process)
Finally, you might want to use wooden pegs or galvanised nails to secure your lawn further
Maintenance of your lawn could not be easier. Brush regularly to remove any debris that may have accumulated, you can also wash to remove dust and grime. However, pressure washers are not recommended for this task, as it can eliminate any infill.
Snow can be left to melt naturally, and avoid using chemical de-icers on your lawn. That being said, you might need to use a liquid based moss-killer once every twelve months.
If your pets have used your new lawn to do their business, do not worry. Remove and wash as soon as possible to avoid any lingering odours, and feel free to use disinfectant when necessary.
Artificial Lawn Company - In Your Area
While our artificial grass installers are based in the capital - London, and throughout the South East (including Essex and Kent), we are only limited to these areas when it comes to installations. We have customers in every corner of the UK - are you next?
Whether you are in need of artificial grass for your garden, in your workplace or otherwise, we can help. With a varied selection of fake lawns for our customers to choose from, as well as a range of accessories to get your new lawn off to a good start, it won't be long until you, too, are enjoying the benefits of using fake turf.
For more information, please do not hesitate to contact us today on 01474 364320.