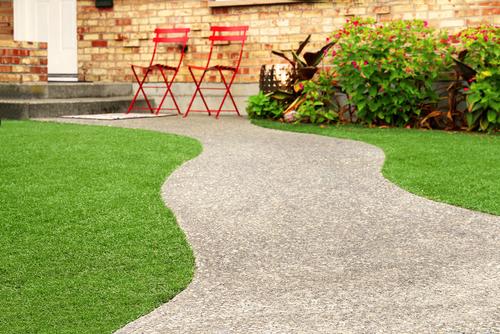 If you enjoy eating your dinner in the evening sunshine after a hard day at work or relaxing with a good book during the weekend, then you certainly aren't alone. The irony is, of course, that to enjoy your garden at its best in the sunshine, you have to put in the hard work when you least want to be outside - in the colder, wetter months.
If mowing the lawn, dealing with grass seed, fertiliser and unruly bald patches isn't your idea of fun, then the alternative might be. While you could pave over your garden and throw in some potted plants for colour, this aesthetic isn't half as appealing as replacing your lawn with artificial grass.
Not only do you get to enjoy your garden without sacrificing comfort, but you get to do it without the required upkeep of a standard lawn. Say goodbye to the lawn mower - it always broke down, anyway! Wave goodbye to weeding and muddy foot and paw prints after the inevitable rain.
If that's not enough to convince you, please read on.
Artificial Grass - The Pros
Unlike grass seed, you'll have a perfect lawn in an instant. No more waiting around for weeks and months on end, tending tirelessly for your efforts to go to waste when the dog just digs it up anyway
No more unsightly patches. For whatever reason - pets, birds, the weather; some lawns refuse to grow evenly, making your garden look messy and unkempt
There's no mud which means there's no ruining your carpet and furniture
The kids and pets can play all year round - it is just as soft and safe as the real thing but with less of the hassle
There is very little maintenance required to keep your lawn in great condition. Water drains off naturally; it is easily cleaned, and you only need a broom to keep those artificial grass blades looking fresh
No need for harsh chemicals in the garden! In addition to that, you won't need to water your lawn to keep it looking fab during the warmer months, either
And the cons? Simply put, there are none. As with any home improvement, there is an initial upfront cost, but if you consider the cost of maintaining your garden in the long term, the cost of a new artificial lawn pales in comparison. You might be pleasantly surprised at the price - and installation is a doddle, too.
So, if you prefer a glass of wine and quality time with your family over weeding and mowing the lawn, then opting for artificial turf for your garden might just be your best option.
If that's piqued your interest, please browse our website or contact our team today to discuss your garden needs. You could be relaxing on a sun-lounger before you know it!