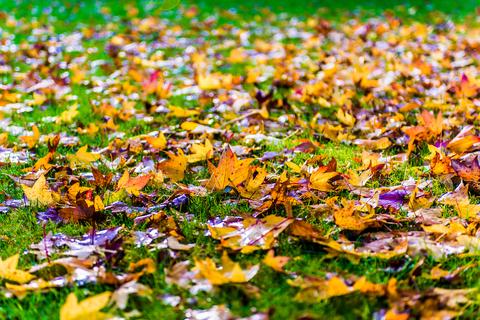 As you may already know, artificial grass is an all-season alternative that can offer a lot in the way of low maintenance and environmental costs, durability and of course, little care. However, despite common misconceptions that fake grass requires no care at all, there are a few 5 minute, seasonal tasks you can do to keep it in the best condition.
As autumn approaches, these quick daily or weekly tasks can really help to enhance the appearance of your grass as well as keep it clean and in perfect condition. In this blog post, we will be taking a look at just 3 quick ways that you can maintain your artificial lawn and keep it looking spick and span throughout the autumn season.
Leaf Blower
Autumn is a time of crimson leaves falling from the trees and if you happen to have a tree in your garden or shadowing your lawn, you'll know the frustration of going out every day to find a fresh pile of crinkled foliage.
Although this issue is pretty much unavoidable unless you're willing to pop a cover over your grass overnight, removing the leaves from artificial grass has never been so easy... enter, the leaf blower! Despite the fact that fake lawns are incredibly resilient to wear and tear, it's always best not to take any chances with a rake in case it damages the blades and compromises its draining system. Instead, a leaf blower with remove any leaves that have snuck onto your lawn overnight and leave you with a pristine patch of grass to marvel at.
Debris
If you notice that leaves or any other fallen specimen is leaving behind unsightly debris on your lawn, it's time to grab the humble brush and give it a quick clean. This will help to remove any debris that has gotten caught in between the fibres and make your lawn look as good as new!
During this season, it may be worth brushing down your artificial grass 2-3 times a week to avoid build-up of fallen debris. This way, you won't be faced with a huge task at the end of the week and you can relax in the garden on your spick and span lawn.
If you find that brushing down your lawn isn't working, consider giving it a quick hose over to flush away any debris.
Health and Safety
Though not necessarily a care tip, it is however important to be aware of the health and safety advice beforehand, especially if you're a parent. Below we have compiled a few tips that you should bear in mind before using your artificial lawn:
If your grass has frosted over, it's always best to wait until the frost melts away. This way, you reduce the likelihood of an accident as well as protecting your lawn from potential damage.
Although the lawn's efficient draining system will filter out any puddles, it's best to wait until the grass is completely dry before trying to play on it or use it. Again, this helps to reduce the risk of injury.
These are just 3 autumn care tips you should follow. Do you have any more that you'd like to share with our readers? If so, leave your comments below and while you're at why not check out our other informative blog articles for more handy artificial lawn tips.