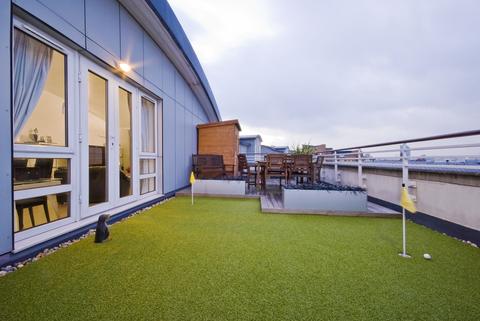 Reaching retirement is a time when many keen gardeners can pay their lawn and flower beds the attention they crave. Many of those who have retired find gardening an enjoyable hobby that gets them outdoors and gives them a sense of calm. However, there are some aspects of gardening that can put a little more strain on the body than others, such as mowing the lawn. Uneven ground can cause trips and falls and also makes pushing a lawnmower over the humps and bumps more difficult. Another negative to gardening is the constant need to remove weeds, especially those deep within the lawn as they can be stubborn, and sometimes the patch of grass surrounding them requires replacing - an unnecessary expense.
This is where synthetic grass lawns come into their own, proving to be useful for the average homeowner, as opposed to being restricted to football stadiums alone. Being able to maintain your garden without the burdens or pains of having to trim the grass, weed it and water it would offer a great deal of peace-of-mind. However, if you have not fully investigated the benefits of fake grass, read on and see how an artificial lawn would fit in with your lifestyle.
Maintenance
As mentioned, an artificial lawn offers an alternative to natural grass that requires far less elbow grease to keep it looking tip top. In fact, it requires barely any upkeep. Rainwater offers enough to keep the grass clean and will wash away any small debris. For larger debris such as leaves and other plant wastage, using a rake or a stiff garden brush will suffice.
Pets
Retirement for some can be a time of loneliness, and many people will have pets that they dote upon. Artificial grass is as suitable for them as it is for you. It is designed to be used for pets and children, and faeces can be easily removed. You don't particularly need to clean domestic fake grass, but if you do feel the need you can use water or a watered down disinfectant.
Children
Children are always a cause for concern, whether they are your grandchildren or someone else's, and you wouldn't want anything to prevent them from playing outside. Artificial grass is ideal, especially for having the grandchildren over as they won't be able to dig up your lawn or kill the grass by spilling things on it. Not forgetting, they won't be bringing in any muddy feet when it has been raining.
Colour All Year Round
One of the most aesthetically pleasing things about an artificial lawn is that no matter how dark the sky is, or how hot the sun is, it will always keep its colour; no brown or yellow colouring, or bald patches. Hooray! This means expense can be saved on all those miracle lawn cures too.
These are just some of the reasons that an artificial lawn can make life that little bit easier and can take the strenuous work out of gardening, leaving you to enjoy gardening to its full potential.