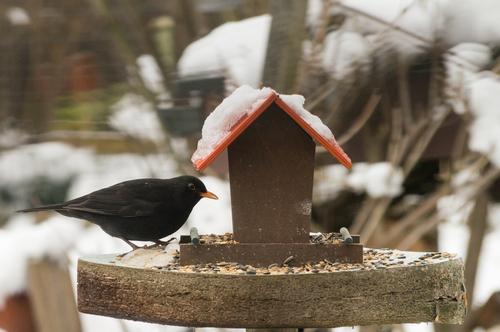 You will likely have heard the scaremongering media reports warning us of an evil winter so long, dark and cold we could be entering another Ice Age; they're threatening 120 Days of Snow!
Of course, the reality of this is that the majority of the country will be unaffected, just as we are every year when warned of 40-foot drifts and icicles the size of Big Ben. Nevertheless, it is always best to be prepared for the worst - just in case!
So, while councils are stocking up their fleets of state-of-the-art gritters and families are stocking up their pantries, why not direct your efforts towards the wildlife taking shelter in your garden?
You may be thinking that trading your organic grass for artificial turf meant waving goodbye to all chance of seeing UK wildlife favourites in the garden forever, but there is a lot you can still do to help creatures and critters finding their way into your garden this winter.
Drink
We spend winter moaning about rain, melted slushy snow and all forms of cold and frozen water. For animals and birds, though, water can be scarce during sub-zero temperatures. If you have ponds, puddles or bird baths in your garden, break up the ice to allow wildlife to access the water beneath for a drink. You could put fresh water down in a bowl at ground level too. If you're planning on treating everyone's favourite garden guest - the humble hedgehog - avoid milk, which can give their young upset tummies. Provide fresh water instead.
Food
Birds will appreciate a selection of seeds, fresh unsalted peanuts, and fruits like apples or pears. For a real treat, you could even leave them some cheese, or dried mealworms and waxworms.
Hedgehogs are also partial to a good meal, especially one that includes minced meat, tinned dog food (no fish!) or scrambled eggs.
Foxes always appreciate a meal of boiled potatoes, chicken and bread scraps, as well as the odd bit of cheese thrown in for good measure.
Squirrels hanker after walnuts, almonds and hazelnuts as well as crunchy chopped fruit and veg like apples and carrots.
Badgers really need a helping hand in winter, so treat them to lightly cooked meats and cheese, as well as fresh unsalted peanuts and fruit.
You can rest assured that feeding visiting birds and wildlife during the colder months of the year will give the local eco-systems a helping hand!
Shelter
Bird houses and nest boxes are tried and tested hidey-hole for winged guests. You can opt for free standing ones (but beware of cats and other predators) or you can get purpose-built enclosed bird shelters with smaller entrances, which can be attached to walls, trees and fences.
Try leaving some areas undisturbed to give animals safe spots in which to take shelter. Rake leaves to one side, but leave them there and let shrubs grow a little untamed to give creatures of all kinds cover. Don't underestimate the homely feel of a compost heap either.
Pots and tubs are great for amphibious guests, and sheds offer shelter to butterflies and other delicate creatures.
Don't forget insects, who will enjoy hiding in piles of dead leaves and foliage. In some cases, they will even appreciate a wooden abode. Many insects, including species of bee, take cover in holes in wood. To encourage them, find an old piece of wood in the shed, drill some holes and stick it to the wall or a fence post.
Birds and animals will always be in need of food, shelter and a helping hand from humans - especially during an extended or bitterly cold winter. So while you may have mastered the art of caring for an artificial lawn all year round (you can check out our ULTIMATE GUIDE, here), now is the time to make an effort and take care of the wildlife that calls your patch of grass home.