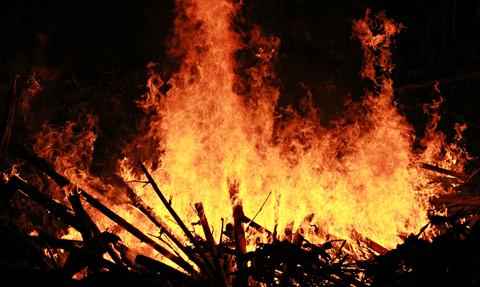 "Remember, remember, the fifth of November; gunpowder, treason and plot"
While for many people, Bonfire Night is nothing more than a night of fun, friends, food and fireworks, for others it is a historical celebration of Guy Fawkes failing to take down the Government and the King. Bonfire night celebrations have taken place for centuries and it doesn't seem to be a tradition that will stop anytime soon. But if you have an artificial lawn, it might be for the best if you don't hold your own festivities at home.
Investing in an artificial lawn has numerous benefits - it is durable and hard-wearing, yet low maintenance; it is neat and tidy and requires no weeding, mowing or insecticides; and muddy footprints and floors will be a thing of the past. That being said, there are a number of safety precautions, especially when concerning fire and naked flames.
It is not advisable to use a BBQ, light fireworks or have a bonfire on your artificial grass. As the grass fibres are synthetic, they will not grow back so it is in your interest to do everything you can to prolong the life of your lawn.
If you do want to have a barbeque at home, we recommend using slabs or a patio for your BBQ - well away from the lawn. As for a bonfire and fireworks, these should always be done in accordance with health and safety advice and well away from your lawn, and small children.
An alternative is to forego hosting your own Bonfire Night and instead visit the local firework extravaganza - the lack of stress and impact of thousands of pounds worth of fireworks will be truly magical for all involved. In addition to that, your artificial lawn will still be intact the next day, looking as good as it ever did. Sounds good to us!
If you are considering installing a fake lawn in your garden, it is worth noting how to take care of your new garden. We feature a lot of advice and care tips on our website and blog - keep reading for more information.
To buy artificial grass for your garden, please contact us and you too could soon be reaping the rewards.