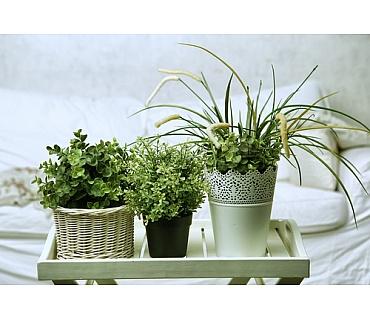 It can be difficult, if not impossible, to venture out into the coldness of your garden during the winter season. However, the dreary weather and dullness can often make you feel low. Luckily, there's nothing to stop you from bringing the garden inside so that you can enjoy it all year round no matter what the weather.
For those who might be missing the look and feel of grass, you could pick an area inside the house and look at artificial grass suppliers to create an ideal indoor garden. However, it might be that you're missing the beautiful flowers that you were growing or you simply don't know how to carry on growing your favourite herbs and spices.
If this is the case, why not try creating a small space in which to maintain all your favourite plants and keep on growing them all indoors? Or, if you don't have a lot of room, a small movable garden box could help you to forget that it's so cold outside.
Here are some ways in which you can bring the garden into your home this winter.
Lay Artificial Grass
Whether you intend to use your indoor area as a garden or simply like the look of it, artificial grass can be a great alternative to normal indoor flooring. Soft and lush, it will even give the appearance of real grass!
If you are considering artificial grass as an alternative to carpet or wooden floor, then adding some furniture might help you to relax like you would in the garden, only you'll feel warm and cosy.
Have a Garden in a Box
If you miss being in your beautiful garden, then why not try to recreate it? You might not have enough room inside to go all out, but you could always use a small box and add some soil and seeds to watch your indoor garden come to life.
You will be able to care for it in a similar way to your garden, but the only difference is that you'll stay warm and the scale is smaller. It might even help you to forget that the weather outside is cold.
Grow Herbs and Spices Inside
You might be missing your homegrown herbs and spices, but there is nothing to stop you from growing them inside. In fact, some may even grow better in the home and it's also handy to have them close to the kitchen.
Look at growing them in glass jars or maybe think of hanging some plant pots in which to grow them. Either way, there's no reason that you can't carry the joy of growing your own produce through the winter.
You might be thinking of laying some indoor artificial grass or even thinking ahead to the summer months. Here at Artificial Lawn Company, we supply various types of artificial grass, suitable for anyone and everyone.
For more information, please don't hesitate to contact us today.