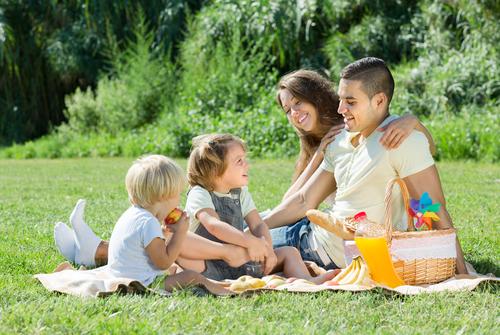 Sunday, March 26th is Mother's Day here in the UK, and what better way to celebrate than to organise the first picnic of the year in the garden?
March is a wonderful time of year for a picnic. Not only are the days starting to get longer, but the colourful spring flowers are just beginning to bloom, offering a wonderful display to brighten up your day.
However, if you think that your lawn looks a little worse for wear, especially after the harsh winter months, why not consider investing in artificial grass to ensure your lawn looks great all year round?
Picnic Food
Why not choose a country kitchen theme for your Mother's Day picnic? Think gingham tablecloths with individual baskets for each person, filled with sandwiches, pasta pots, crisps and other goodies. For dessert? Mason jars filled with individually made cheesecakes or trifles add a special touch. Complete the meal with a delicious jug of Pimm's or your favourite soft drinks.
Decorations
Picnic decorations don't need to break the bank. Fabric bunting in pastel colours or fairy lights can brighten up the garden when the sun starts to set. Get the children or grandchildren to make pretty butterflies or ladybirds out of tissue paper to put on the table, and organise a vase of your mother's favourite flowers as the centrepiece.
Seating
If you don't fancy settling down on a blanket for the traditional picnic feel, don't forget to organise alternative seating arrangements! For the adults, comfy cushions on a garden bench are perfect. For the children, especially little ones, why not invest in some fun outdoor chairs? They will love playing with them and the chairs can then be wiped clean for indoor use afterwards.
Exploring the Benefits of Artificial Grass
Now that you've got your Mother's Day picnic organised, the only thing left to do is make sure that your lawn is ready for the occasion! If your lawn needs a bit of TLC, consider switching over to an artificial lawn to ensure everything goes without a hitch.
With artificial grass, you don't need to do any of the hard work associated with a natural lawn. Investing in a fake lawn can save you the expense of equipment such as mowers and strimmers, plus you won't need the chemicals and fertilisers associated with real grass. Artificial grass looks good all year round. It's also easy to maintain - you can just hose it down or clean it with a stiff brush. The grass is porous so any rainfall will drain away, allowing your lawn to dry quickly.
For more information on artificial grass prices and installation, please get in touch with us today.