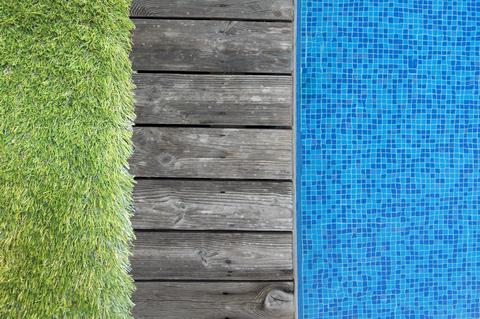 The many benefits of fake grass are not just seen in homes and stadiums. Commercial properties and organisations have followed suit and are now taking advantage of this innovative invention as part of their overall setup. In fact, there are numerous examples of its versatility around us, as we come across artificial grass in our daily lives all the time.

One of the key reasons commercial properties have adopted artificial grass instead of natural green grass is its durability. Fake grass can withstand extreme weather conditions with relative ease, from sizzling heat waves to freezing temperatures. The synthetic nature of artificial grass makes it not only durable, but also long lasting. It is resistant to wear and tear and even pet-friendly, so it's no wonder it has found near universal acclaim.

In today's post, ALC highlight some commercial uses of artificial grass. These are organisations that are now actively using artificial grass as part of their overall structure and setup.

Schools

Maintaining a lush green lawn in schools can be cumbersome. The idea of watering the landscape or installing an expensive water sprinkler system and mowing it is simply too much work and hassle. In addition, natural grass tends to fall short when it comes to extreme weather conditions, making it a challenge to maintain a lush green setting all year long.

Schools have been quick to replace their natural turf with fake grass though because of one main feature; it looks good. In addition, it provides a safe, level field for kids to participate in sports activities. And, above all, it's cost efficient in the long run, and pays for itself over time. Schools are not the only ones making the switch, however. Colleges and universities are also adopting it and slowly integrating artificial grass into certain sections of their campus.

Outdoor Swimming Pools

Today, swimming pools can also be seen sporting artificial grass. Many health clubs and community centres are using fake grass around their pools as part of their strategy to beautify the landscape and make the pool area safer. In most settings, a swimming pool and natural lush green landscape don't mix well due to the border of the pool being a major splash zone. Artificial grass provides the answer. It eliminates the scenario of wet grass and provides a clean environment around the pool, thereby making it more accessible and inviting.

Caravan Parks

What a gift from the heavens artificial grass has been for caravan parks! Just a one-time professional installation and that's it; the whole park is set for decades, providing it undergoes regular inspections. Caravan parks are huge landscapes. Maintaining that unique green setting throughout the field can be very challenging, not to mention expensive. With artificial grass, the whole park sports a lush green look throughout.

It is fair to say that artificial grass has a number of commercial uses. As fake grass receives admiration and grows more popular every year, we will continue to find more areas where the surface can be put to good use.