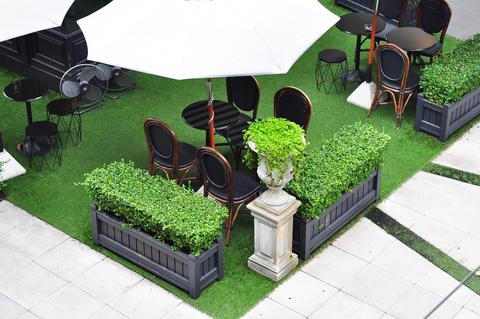 Very seldom does a product come around that achieves universal acclaim in its industry. Few innovations can boast that they are a great fit for practically any situation but artificial grass can make such a claim. A true all-rounder, it is not limited specifically to residential areas; commercial entities, sports grounds and even government institutions have been quick to capitalise on its benefits. Fake grass lawns can even be seen at corporate event venues and large scale exhibitions.
Corporate events are a big deal and attention needs to be paid to every little detail in order to ensure success. The event requirements will determine what needs to be considered and what materials are best. For example, if the event is being hosted under open skies on lush green lawns, you need to be sure the lawns stay in good condition all year round, regardless of how much heavy traffic they're subjected to or what the weather is like. This is where artificial grass comes in. Known for its ability to retain a healthy, natural look whatever the season, artificial grass has been the best and most popular solution for corporate events for a while. In fact, nowadays it is a common sight at many different corporate event venues.
There are many reasons to replace a natural lawn with artificial grass, but one of the biggest reasons is that it is a good investment and can boost profits for venue owners. An artificial lawn requires less maintenance, has a longer shelf life and is robust enough to take on all sorts of weather and heavy use, without looking any worse for it. If kept in good condition, artificial grass is a one-time investment that pays for itself over time. Due to its versatility and robustness, it is also a great way to ensure you can host events all year round, without fail. Even in the middle of winter when natural grass would be dead and unattractive, artificial grass offers a beautiful green backdrop for corporate events. What's more is that fake grass lawn doesn't require you to spend time and money with water, soil, pesticides, fertilisers and all the other expensive items needed to keep a natural lawn healthy. Without the need for constant maintenance, venue owners can also save money on wages for groundskeeping crews too. So artificial lawns can benefit both those who own a venue, and those using it.
Furthermore, if artificial grass is damaged or ruined, it can be fixed instantly. All you need to do is contact the grass installer, and get the damaged bit repaired or replaced. It can be back in working ordering a matter of hours, so you events aren't cancelled and no profits are lost. Real grass on the other hand would take weeks to regenerate and regrow to a healthy level, costing more in the long run too.
Using artificial grass from ALC for corporate events is best for everyone involved, be it the venue owner, the maintenance team or the event attendees. The benefits of high-quality artificial grass clearly outweigh the features of natural grass when it comes to keeping a corporate event venue looking its best. More and more businesses are capitalising on this feature and more will continue to do so in the coming years.