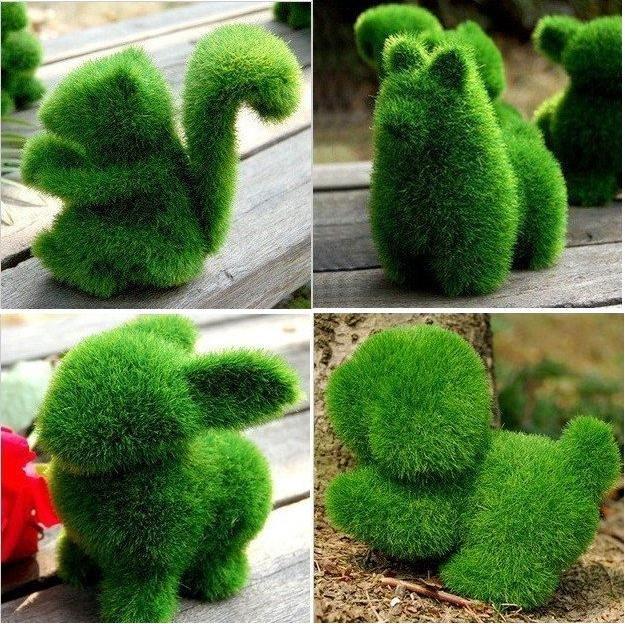 Everyone has seen fake grass used on a large scale. From gardens and parks to artificial sports surfaces, synthetic grass is widely used in the public domain. However, many people are unaware that fake grass for lawns can also be used on a smaller scale with arts and crafts.
Small scale projects like those suggested below are a good way to make use of leftover or old turf which you don't want to see go to waste.
Synthetic Grass Animals
Though these little beasties take time and patience to make, as you can see the effort is definitely worthwhile. They make great ornaments and will definitely become the talking point of any room you choose to put them. However, if you don't feel you have the knack when it comes to making these cute animals then fear not, there are how to guides and even ready-made animals available online.
Clocks
The numbers, hands and mechanism can be bought in most craft shops so all that remains for you to do is to cut the synthetic grass to the desired shape. Simple. A fake grass clock would make a great addition to a conservatory or kitchen and would add a touch of eccentricity to your home.
Pillows
Synthetic grass for lawns is basically like carpet; therefore it is easily stitched and cut into a fetching pillow cover. You may find you need some sturdy needles in order to get through the grass but you should find it is a relatively easy material to work with. These pillows would not look out of place in an outdoor summer house or conservatory.
Artificial grass flip flops
In short, these are genius. They allow you to feel the satisfying feel of crisp grass between your toes wherever you go. They are easily made, simply cut the grass to size and stick it to an old pair of flip flops. A wonderfully eccentric alternative to slippers, these are a must make for anyone with left over fake grass for lawns.