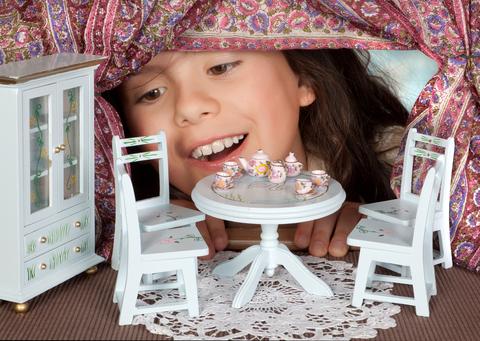 Here at Artificial Lawn Co we love chilling with the family and watching a Disney film on a wet Sunday afternoon. When Alice fell down the rabbit hole, she entered into an enchanted and magical world, full of bright colours, bizarre occurrences and peculiar characters. There were tea parties and croquet games that left the eyes darting about the screen, unsure of where to look for the next crazy character or the next move made by the Queen of Hearts.

If you would love to dive into the rabbit hole and have your own version of Alice's Wonderland, then read on. We will be telling you how to recreate some of the famous scenes and sets that Alice found herself in, for your home.

The Croquet Game
While it is not advisable to get hold of a real flamingo and use it as a mallet, we can certainly offer some alternatives for you to deck out a bedroom in the true Alice theme. In most beach or toy stores there are normally blow-up flamingos available which you can incorporate into your design. For the flooring, consider laying an artificial grass carpet, as this will not only pull the whole look together, but it is also a fantastic alternative to carpet in a child's room. It is very easy to look after and can be vacuumed, without the worry of stains. Don't forget to get hold of some ginormous playing cards too!

Tea Party
When Alice joins the tea party, the screen is filled with an array of colours and all the characters appear to be enjoying the most mismatched of tea parties. Use the bed to create the centrepiece of the tea party: the table. It will allow for lots of colourful additions in the form of cushions and pillows for cakes. Perhaps painting any surrounding wardrobes in hot pink will recreate the colour and size of Alice's chair too. Then, to top it all off, don't forget they were outside in the woods; get hold of some artificial grass and use it in place of a carpet! Not only will it look the part, but it will also prove very versatile and easy to maintain too. Click here to view our most versatile and maintenance free synthetic lawns today!

Rabbit Hole
For some reason, children love to make dens and climb inside of things. This offers the perfect opportunity to recreate the rabbit hole that Alice falls down at the beginning of her adventure. Perhaps your child already has a bed with a slide rather than stairs or a pop-up tunnel in their room, if so… read on!
Consider covering a blow up tunnel with some fake grass from www.artificiallawn.co.uk to recreate a rabbit hole that is sure to provide hours of fun and adventure. Perhaps you could get the kids involved with making some paper flowers and mushrooms to place around too; ideal for a rainy Saturday spent indoors.
Keep an eye out for some more film-set based projects that can transform a bedroom into something that would look right at home on a Hollywood set!