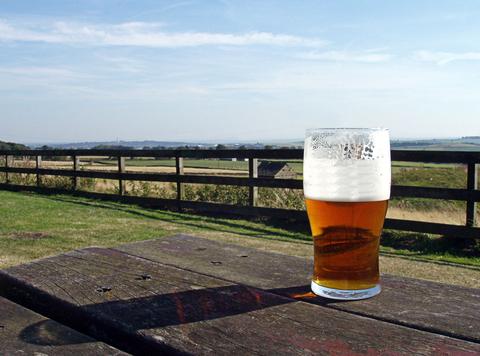 Creating your own beer garden is something every man dreams of. You can just imagine the hooray created by a bunch of lads as they walk in and lay their eyes on a set up so magnificent that it would put many London rooftop pub gardens to shame. Well here at Artificial Lawn Company, we've come up with the perfect way to recreate the atmosphere of a pub garden without the extortionate pub prices and rowdy drunk troublemakers. Listed below are a few ideas we have come up with to get your very own pub garden up and running:
Location, location, location
First off, you're going to need the perfect location. Foremost, this is going to be outside in the garden, but where? Would you have it at the bottom of the garden, set against a wall, or on top of the shed? Luckily for you, we've made that decision on your behalf. Might we suggest that you have the location as close as possible to the kitchen? This way you have quick and easy access to the all-important food and drink. If possible, try to find a suntrap, so that during the summer months you can fully utilise the sun's rays and make the most of your beer garden. Why not purchase a cheap gazebo to add a little colour to your garden and keep away the unpredictable summer showers. After all, this is the UK we're talking about.
Flooring
Historically, beer gardens were paved with cement or gravel to keep the cellar cool and allow the rain to drain away. In today's economic climate though, this can be extremely expensive and time consuming. So, why not get yourself some artificial grass? With a fake lawn, it's as easy as laying carpet and half the price of having a patio laid. Not only is synthetic grass cheap and easy to install, but furthermore it is designed to withstand heavy traffic while remaining incredibly durable during the winter months. Visit our website to see just how easy a fake lawn can be installed!
Audio
Any pub garden that is worth its salt must have music. So in the case of your pub garden, why not incorporate some good tunes to keep the party going? Whether you're relaxing with the other half on a summers evening, or you have the lads round to watch the football; having a steady stream of good music will ensure your guests have a better time at yours than they would down the pub. This can be done relatively cheaply with speakers and MP3 docks readily available. With Bluetooth, you wouldn't even have to bring your audio equipment outside allowing you more time to enjoy the fruits of your labour.
Tables and Seating
So you have the perfect location for your beer garden; the sun is shining, good music fills the air, and you have a plot of lush green grass that would make the residents of Wimbledon Common blush. All you need now is somewhere to sit and enjoy the good times. With garden furniture, it all comes down to personal preference. For some, wooden picnic benches are the perfect option as they offer a communal atmosphere. This classic pub look is sure to bowl over your friends as you sit down with a frosty beer or tall glass of Rose and regale over stories of a misspent youth.
These are just a few simple tips courtesy of www.artificiallawn.co.uk that would help you spruce up any dull garden or add even more colour to an already glowing rooftop terrace. Should you have any questions regarding artificial grass installation, then simply get in touch with us today. Our experienced and friendly staff will be more than happy to advise you in any way they can.