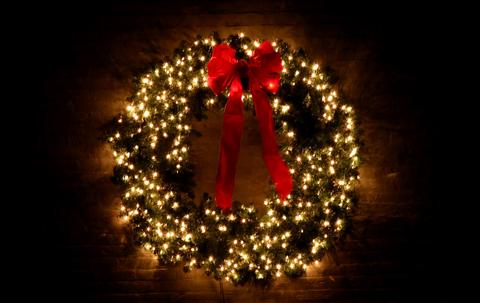 Christmas requires a lot of dedication that seems to increase each year. There always appears to be a new fashionable way to decorate your tree, a modern approach to putting up tinsel and a new-age manner of decorating the windows.
Well, now there is just as much emphasis on the outside of your home as there is on the inside... but fear not, ALC have got you covered with a nifty little guide to help you get your front garden looking its finest next Christmas.
Wreaths
Let's get started with a classic; a beautiful and truly festive Christmas wreath. No one can deny that when we see one of these on someone's door, it gives a warm and inviting feel, no matter how cold it may be. The red ribbon and golden bells just sing out warm festive wishes and put a smile on our faces before we have even walked through the front door. Or why not deviate a little and go for a white wreath, giving a snow-dusted effect (it may be the closest we get to snow this year).
Lighting
Of course, we all know that fairy lights are one of the most popular forms of Christmas decoration. But, what about putting them outside in the front garden for a little extra sparkle? If you have trees, shrubbery or fences then these are perfect for decorating and turning your front garden into a winter wonderland. White lighting maintains a classy and inviting feel when draped through the garden, while multi-coloured lights offer a more fun and vibrant feel.
Fake Snow
With all the promises of a white Christmas year on year, it can become difficult to believe the weather people when they offer this promise again. That's alright though, because you can make your own and create a winter wonderland that will make any grotto jealous. If you have an artificial lawn, you can spray it with the same fake snow that you might put on an artificial Christmas tree. This means you can really go to town on the lawn, and if you really want to opt for something a little special, why not attempt some patterns. Visit our website today for our most luxurious range of fake lawns and simple installation process.
Wicker Features
Admittedly it's not quite possible to get hold of a real reindeer and keep it in the front garden. However, a wicker reindeer is indeed a possibility and makes for a fantastic addition to a Christmas garden. You can leave it as it is, add some ribbon or opt for lighting within the reindeer itself so he can be seen at night too!
Christmas decorations needn't be restricted to the indoors. Instead, give your artificial lawn from www.artificiallawn.co.uk some Christmas cheer. Due to its versatility, it makes creating an inviting front garden a whole lot easier. If you need any further advice or would like to enquire about an artificial lawn then don't hesitate to get in touch!