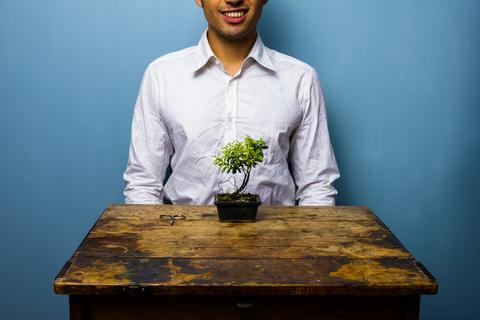 Design Your Own Desktop Garden
If you are limited when it comes to outdoor space, but you crave a patch of greenery to call your own, why not consider creating an indoor oasis? Perhaps even of a table top variety? Why not let this Artificial Lawn Co blog post explain.
Even if you are a bonafide plant killer with little to no knowledge of how the natural world works, you can design a great indoor space to enjoy, with all the colours and textures you need to remind you of the freedom and feeling you get outside.
How exactly do you design such a desktop garden though? Well, first you have to determine how much space in available. Are you looking to cover your entire coffee table in a fake lawn and a selection of plants and flowers? Or do you just want to dedicate a corner of your desk to a miniature workday-friendly oasis?
Once you have made this first decision, you can start looking at the separate (and fun!) elements of a desktop garden, like flowers (fake or the real deal?), ornaments (gnomes and flamingos or stone balls and garden themed accessories?). First though, you need to look at the foundation of your indoor oasis; the surface or 'flooring' material. To get you started, we have listed some of the options available below - so read on and start creating.
The 'Flooring'
Artificial Grass
Artificial grass is the most obvious option when it comes to finding an appropriate surface material for your desktop garden. It looks like the real thing, but without any of the hassle and maintenance. It is a reliable, practical and flexible choice – and it makes a great blank canvas for the rest of the garden! Read here for more information on summer lawns and installation.
Patio and Decking
You can't install an entire patio or deck on your desktop, but you can use a slate or wooden coaster to create the effect. Plus, it will give your coffee something to sturdy to sit on, so you don't spill it all over the desk when you pop it down in a hurry on the uneven surface.
Water Features
If you've always fancied a pond or a pool, may we suggest scaling it down with a fish bowl instead? No. Not a tank, a bowl. You get the best of both worlds because you can enjoy the water and its interesting inhabitants, plus, you get an easy desk decoration that doesn't require the same digging and grafting required to build the real thing.
You see, Bonsai and Zen are no longer the only garden alternatives. There is a new garden on the block, and it sits on the smallest desktop or the biggest dining table, with ease. The desktop garden in a great way to enjoy your limited indoor space; it is a low maintenance feature that will give any room a picture perfect outdoorsy touch.
So pick a place, gather your materials and create your ideal indoor oasis with a little bit of artificial grass and lots of imagination.