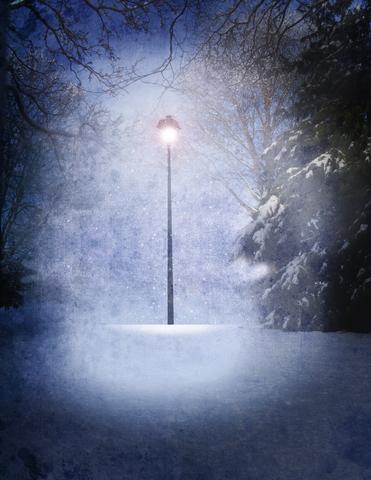 The Chronicles of Narnia is a wonderful family feature that first started off as a book. As it made its way onto the big screen, we fell in love with characters such as Mr Tumnus and Aslan. Not forgetting, of course, the picture-perfect setting in the wintry wonderland of Narnia, soon to be transformed into blossoming hills and rolling countryside.

One of the most memorable scenes in the first instalment of The Chronicles of Narnia is the lamppost set. Surrounded by nothing more than a sheet of white, the snow-laden lamppost, where Lucy meets Mr. Tumnus for the first time, plays a pivotal role in The Lion, The Witch and The Wardrobe.

The soft glow produced by the lamp warms the snowy winter setting and really helps to set the tone for one of the most important scenes in the movie.

So keeping this image in mind, in celebration of the winter season, why not create your own miniature Narnia scene, incorporating the frosted lamppost? Not only will it prove to be popular with the little ones, it will be a beautiful and unique decoration, or even a table centrepiece this Christmas.

Let's take a look at just a few of the ways you can create your very own Narnia-inspired winter wonderland courtsey of www.artificiallawn.co.uk.

Base

Before you can start spraying fake snow, you need a base. While cardboard will suffice, why not opt for something a little more creative and natural-looking? Artificial grass is wonderful to use as a base. Not only can artificial snow be washed away with ease, but it is also versatile, so any leftovers from your lawn renovation will be ideal for creating a few centrepieces and decorations. Read more here for the UK's most durable range of fake lawns today!

Artificial Snow

Next, you need to add a snowy effect. You can either use spray on snow (available in most craft shops) or, if you want to take a more child-friendly approach, cotton wool is a wonderful alternative. Not only can it give the effect of a soft white sheet, it is gentle on the hands so little ones can play with your Narnia-inspired winter scene all day long!

Lamppost

Now, it's time for the main attraction. The lamppost can be crafted using paper mache. After the main structure has been assembled, it's time to add a splash of paint. Now, you can opt for the traditional theme featured in the movie, or you could make it a little more colourful if your little ones want to get involved and help. For extra effect, consider lightly spraying it with fake snow and adding glitter.

Additional Features

If you want to make your scene more intricate, you can create a paper mache Lucy and Mr. Tumnus, and add a couple of snow-laden faux trees. You can create a snowy effect on the trees with any remaining cotton wool, artificial snow or glitter.

This miniature Narnia setting is great for both display purposes and for playing on; plus, it will add something truly special to this year's Christmas layout. If you have any more great ideas on how to use leftover artificial grass, then feel free to get in touch with Artificial Lawn Co and we will give your idea a mention in our blog section.