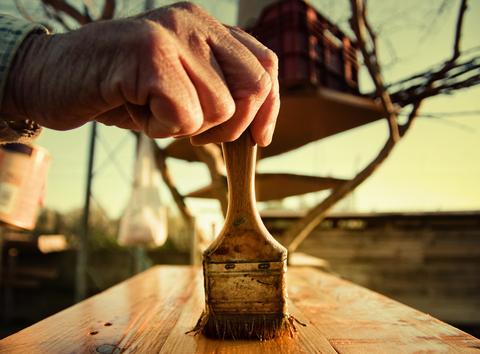 If your garden looks a little worse for wear, and whenever the time comes to mow and maintain it you constantly finding yourself with your head in your hands, it may be time for a change.
For kids, in particular, a worn-out patch of lawn can turn their adventures to long-lost cities and jungle exploration into muddy treks through unappealing swamps. So, if you want to provide a surface that inspires imagination through its aesthetics, as well as keeps them safe when trips and falls occur, artificial grass is a fantastic option.
But what else can you do to help them on their journey to faraway lands? Well, DIY is to the rescue, and www.artificiallawn.co.uk has suggested just a couple of mini projects, below!
Playhouse
If you have lots of spare wood left over from dismantling last year's time-worn bench, why not put it to good use and build a playhouse! Though the wood may look a little unappealing now, a lick of paint can transform it into the perfect place for your kids to enjoy their lunches and prepare to slay dragons!
Portable Fort
On the other hand, if you'd like to teach your kids a little something about the art of DIY, you can always help them build a fort! The best kinds are those that can be dismantled after, so all the fun of building can be enjoyed the next day too! Plus, forts can be made out of almost any material that's lying around, as well as any furniture. With artificial grass too, you don't have to worry about anything getting mucky, making it the ideal surface for a summer DIY idea.
Miniature Golf Course
If your garden is fairly generous in terms of space and you want something the whole family can have fun with, a miniature golf course is perfect. Not only will your fake lawn cater for every swing, but it is also something that can be enjoyed in the company of your neighbours or friends too, or if you want to sneak in a few practice runs before tomorrow's big game! Read more about artificial putting greens here.
So, consider these three DIY ideas or think of your own! Whatever you decide to create, utilise artificial grass to its full potential this summer.