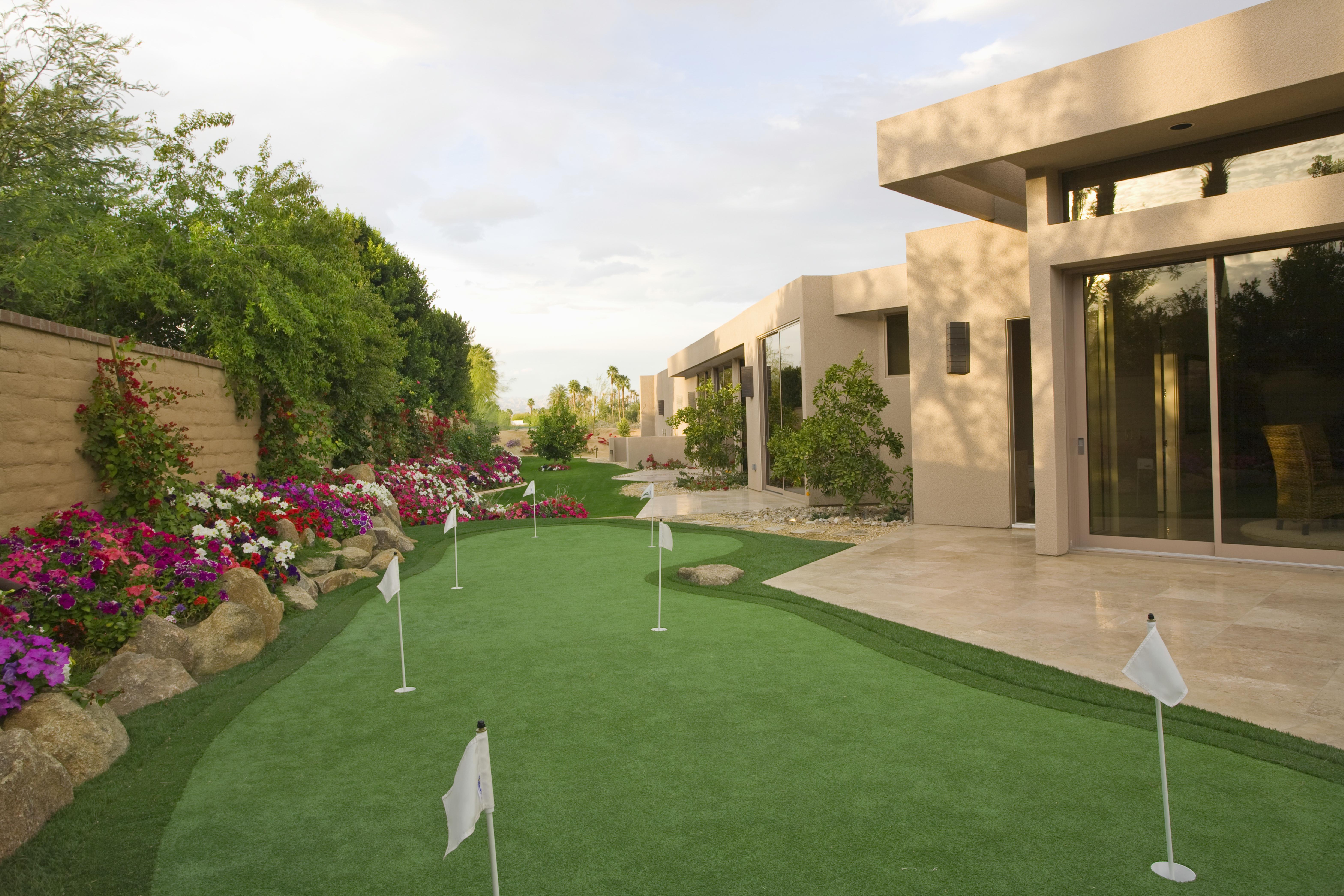 Are you a keen golfer? If so, you'll want to perfect your swing and work on your putt as much as you can. Unfortunately, it's not always possible for you to get down to the golf course or driving range as much as you'd like because sometimes, life just gets in the way. This doesn't mean your game needs to suffer, though.
If you have enough space, you can easily practice your golf in the garden. No more travelling to and from the course or having to wait until it's open. You can practice garden golf whenever it's convenient for you, be it midday on a Saturday or at 9pm on a Monday night.
For those who take their golf seriously, here is a list of the garden golf equipment you need to help your form and performance away from the course.
Artificial Grass
First of all, you need a good surface to play golf on. We all know that professional courses are expertly manicured and trimmed to perfection, the results of which are difficult to replicate at home with a standard lawnmower.
Depending on whether you're a serious golfer, or looking for a casual option to chip a few balls as and when, it could be worth your time to install artificial grass. You won't need to worry about mowing your lawn or keeping it perfectly flat at the tee, nor will you need to worry about pushing the divots back into your garden. Artificial grass is incredibly versatile and hardwearing, making it a great choice for sports such as golf in the garden. We supply and install both a specialist putting and teeing surface, perfect for professional and amateur golfers alike!
In addition to playing a garden golf game without having to worry about the state of your lawn, artificial grass can benefit everyone else in your house, too. It's pet-safe and child-friendly, and it can last upwards of 10 years. It requires very little in the way of maintenance, so you can chip some balls whilst everyone else potters around doing their own thing.
Practice Mat
If you're not a keen golfer and only want to practice your skills every now and then, or if fake grass just isn't the right fit for you at the present time, a practice mat will be your best friend. It will allow you to tee off without risking making divots in your lawn.
Practice mats can easily be rolled up and moved indoors, so you can get your full garden back. You can also use practice mats at the golf course if you don't want the hassle of stomping divots back into the grass, and you can use them on your artificial grass, too.
Although practice mats are made from synthetic turf, they're a good way to protect the integrity of your garden if you're going to be chipping balls on a regular basis.
Chipping Net
Golf balls travel fast and hard, and they can cause a lot of damage if left to their own free will. Driving a good ball at the golf course is the aim of the game, hence why people practice extensively at driving ranges. The golf course and driving range have boundless amounts of space, but your garden probably doesn't.
Rather than risk making a hole in the fence or losing your ball in the neighbour's garden, invest in a good quality chipping net. You'll be able to drive your balls and really work on your swing without the risk of the ball going AWOL.
Alignment Training Aid
Most golfers are constantly trying to improve their aim, whether it's off the tee or on the putting green. At the end of the day, the aim of golf is to get the ball in the hole. This is something that comes with practice, and what better place to practice to your heart's content than in your garden?
With the help of an alignment training aid, you'll be able to see how you need to be swinging your club and where you need to be aiming your swing. They're a great tool for those who want to take their garden golf game seriously.
Some aids have tools to show you the position you need to be in with each golf club, ranging from a putter through to a nine iron. You won't necessarily be able to practice distance because there's only so far you can go in your garden, but you'll certainly be able to better your aim.
Practice Ball Bag
If you're playing golf in your garden, there's a good chance you're going to be chipping multiple balls in one session, a bit like at the driving range. Rather than spending a long time bending over and picking up all your balls, invest in a practice ball bag. Also called a pickup bag or a shag bag, you'll be able to easily pick up all of your balls without having to bend over.
This saves not only your back, but you can gather them all a lot faster and get back to practising more quickly. Plus, you'll be able to keep your garden tidier with less effort.
Find Out More About Artificial Grass
We can't help you with the practice ball bag or the chipping net, but we can certainly help you with artificial golf grass. If you'd like to find out more about fake grass for sports or to request a quote, please contact us.