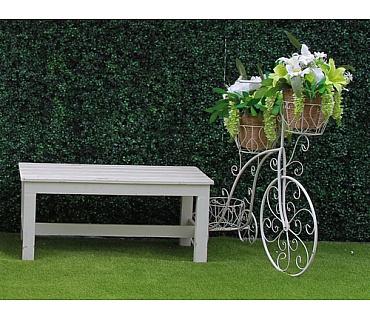 If you're living in a busy city like London, you might think that you have no time or space for a beautiful garden. There's always room for green in your life. If you have a flat rooftop or balcony, or even just a very small outside space, you might be looking to buy artificial grass to create your green haven.
It will be easy to maintain and will look great all year round. If you are struggling to think of what type of synthetic grass to go with, or how you want your garden to look, don't panic. We have put together a few tips to help you whether it's a balcony, rooftop or small garden.
Design your own Rooftop or Balcony Garden
If you have a balcony, you might be sitting and wondering what you can do to give it a new lease of life. A spring lawn will add some colour, while a fresh-looking patch of grass to call your own could brighten your mood every day. You could also add some garden furniture if you have room, so you can sit outside and really appreciate your little slice of paradise.
If you live in a relatively small building with no outside space, or a block of flats, turn your roof into a paradise for everyone. Adding a communal garden to the roof of your flats could not only help you connect with your neighbours, it will also be a place for everyone to enjoy.
Create a Garden You Will Enjoy
So, you might only have a small space outside, and it might not see a lot of sunlight. A luxury lawn could be perfect to brighten up your little garden space. It will look beautifully green all year round, as well as looking realistic. You could add some small flower pots for added colour, or just some small ornaments to really bring your garden to life.
No matter the size of the space, fake grass will fit, and it might even make your garden look bigger. The point of a garden is to give you somewhere to relax and enjoy all through the year, even in the winter. You could add a small overhead canapé, so you can enjoy your garden whatever the weather. Don't waste the space you have, create something that you and your friends and family can enjoy.
If you are looking to invest in artificial grass for your garden, then why not call on the Artificial Lawn Company team to assist? For more information on pricing and installation, send us a message via our contact page or call us on 01474 364320 today.