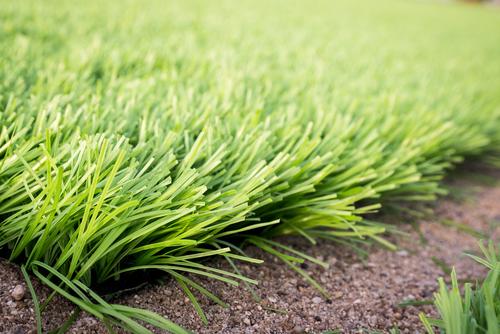 We are often asked about the advantages of choosing artificial turf over real grass, so we have weighed up the differences of fake grass and the real thing so that you don't have to.
Maintenance
Real grass can look amazing after cutting, watering and weeding. Well, at least for a short while, until it becomes overgrown or the kids run around on it, tearing up your hours of backbreaking work.
With fake grass, though, a semi-regular brush is all that is needed to keep your artificial lawn looking pristine all year round, even when the children fancy a bit of rough and tumble. Plus, you won't have to worry about removing grass stains in the wash!
Compared to the maintenance of real grass, costs involved in keeping your artificial surface are much lower. No more wasting money on electric to power up the lawn mower, or topping up your water bill to keep the grass watered in the summer months.
Easy Installation
Installing your new artificial turf is a quick and simple process. If you live in London or the south-east of England, our team of experts will be on hand to install your lawn for you.
Longevity
Once your turf has been installed, our team will be happy to offer advice on how to care for your lawn, which comes with an eight-year guarantee.
As a general rule of thumb, artificial turf used intensively for sport will last for 10 years, while surfaces used more leisurely can be expected to remain in quality condition for twice as long.
In contrast, real grass can become unusable very quickly, especially in the winter months when conditions deteriorate which leads to grass turning into a mud bath. At least if you make the jump to an artificial lawn, you won't have muddy footprints trampled throughout the house!
Always Green
Aside from ensuring that mud on the carpet is a thing of the past, you will always have luscious green grass to look at through the window, while your neighbours are reduced to slipping on Wellington boots just to walk through the garden.
Imagine being able to look out into the garden at Christmas time and see grass as green as the opening day of Wimbledon? If we can't have a white Christmas, it might as well be green.
If you would like any more information about artificial grass then please contact the ALC team on 01474 364320. We will be more than happy to help.