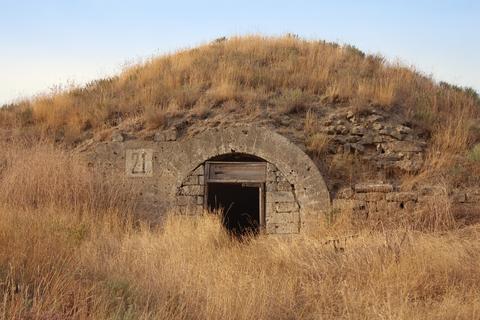 Here at www.artificallawn.co.uk we love films! The Lord of the Rings trilogy depicts a magical journey into the unknown for hobbit's Samwise Gamgee and Frodo Baggins. Along the way, they meet a few ruthless foes, friendly protagonists and not to forget, a peculiar character with unpredictable behavioural tendencies known as Gollum or Sméagol.

Without giving too much away for those who haven't yet seen this epic series, there is a huge focus on the ring that rules them all. Previously belonging to a dark lord, the ring has power over all of the other rings created for the districts of elves, dwarfs and men.

Before Frodo's journey began, the story of Bilbo Baggins and his voyage is portrayed through The Hobbit; a prequel novel written by the same author, J.R.R Tolkien.

Though packed with action and adventure, one of the most notable scenes in both The Hobbit and The Lord of the Rings is none-other than Bilbo's hobbit hole. Set against the quaint backdrop of The Shire, the Hobbit Hole is surrounded by nature and allows for a calm, collected atmosphere to settle during the films.

It is not only distinctive, with its hobbit-friendly palette of greens and yellows. It's the dream home of many who can squeeze into its petite interior.

The good news is that achieving a similar feel in your own back garden isn't impossible, nor does it require an exceptional level of DIY skills and know-how. Today, there are so many odds and ends that can help you to transform your rusty shed into a beautiful, nature-inspired play or summer house.

If you are an avid Lord of the Ring's fan and you're feeling inspired by the exterior décor of Bilbo's Hobbit Hole, read on. In this blog post, we will be taking you through how to achieve a similar appearance in your own back yard. Click here for our tips on how to install synthetic grass!

A Lick of Paint

First of all you need to get the look, and luckily, it's not as difficult as it seems. The warming colour schemes of yellow and dark red brickwork, transforms the entire appearance of the exterior, making this your primary port of call. Though replacing your shed door with a circle entrance will prove tricky, simply applying a lick of paint can help to set the scene.

You can paint yellow and dark red/brown brickwork around the frame of the door and across the shed's surface. You can make this as intricate or as simple as you like. There are plenty of images available across the web to refer to if you get a bit stuck. Also, feel free to extend this illusionary brickwork to around the edge of the windows.

A Miniature Meadow

One of the most idiosyncratic traits of The Hobbit Hole, is the green space surrounding it. The lush green grass creeps up from every direction, even settling on top of the home.

Now, you can use the kind words in the world, and it still won't guarantee that your lawn will remain pristine. So, instead of wasting your breath by trying to encourage your grass to grow, why not opt for a luscious alternative? Fake lawns are perfect for renovating a Hobbit Hole-inspired shed.

In addition, the cost of artificial grass from ALC is budget-friendly, and far outweighs the heavy maintenance duties associated with real lawns. It not only looks and feels fantastic, but it is a long-lasting substitute that will make you a garden-proud home owner once again.

If you want to take it one step further, why not install a few strips on the roof of the shed to recreate the nature-inspired feel of Bilbo's Hobbit Hole.

A Splash of Colour

Now you've painted your shed and installed artificial grass to create a miniature meadow, it's time to add a splash of colour in the form of flowers and plants. This will really help to bring this pretty little spot of the 'Shire' to life, and the best part is you don't have to spend hours planting a collection of sunflowers or daisies.

You can get a hold of artificial flowers and plants, to swap the agonising wait and burden of changing seasons for a more time-efficient alternative.

Once your Hobbit Hole shed is completed, why not invite the neighbours over for a bit of nostalgic Lord of the Rings fun!