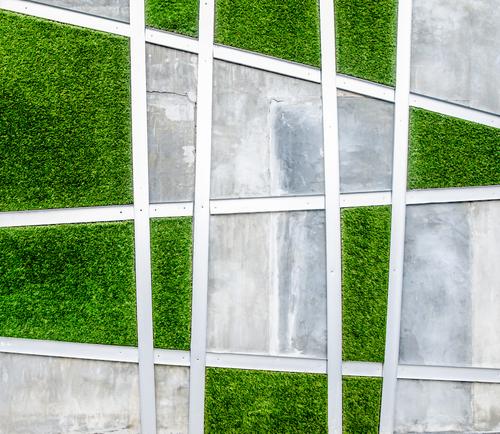 The beauty of artificial grass is its flexibility and endless possibilities - due to minimal maintenance requirements, fake lawn can be used for some truly innovative and quirky ideas.
For many, the ideal garden consists of luscious green grass, colourful flowers and a spot to sit back and relax with a glass of something cold in the summer. But while one person sees paradise, another will see the endless hours of graft required to preserve your vision of utopia.
Below we have listed five quirky and low maintenance ideas that can really bring your home and garden to life.
Artificial Grass Steps
If you have any steps in your garden, laying artificial grass on each step makes for a great quirky touch. Not only will this standout, but you can also enjoy the feeling of the grass between your toes. Synthetic grass can also be a statement feature on your indoor staircase.
Furniture
Imagine being able to feel the smooth and forgiving touch of grass whenever and wherever you relax. As fake grass is incredibly versatile, it can be used pretty much anywhere. It is even possible to use the surface on your furniture.
Sitting down on a sofa laid out with artificial grass, or catching 40 winks in a bench or deckchair rich in fake grass, are just some of the ideas that are possible.
Tables and Chairs
Doubling up as one of the cleanest and most durable surfaces available, artificial grass can make for a great alternative tablecloth. The kids would love sitting at a table covered in grass, as opposed to the norm, making this a cool idea for children's parties.
Outdoor dining areas can also look fantastic covered in fake grass to portray a more natural setting in your garden. The neighbours will be jealous at how green your table is, as well as your lawn!
Garden Patterns
Many gardeners like to mow their grass a certain way, so a particular pattern can be seen in the cut. With artificial grass, making a pattern in your garden is simple. By cutting off the turf you need and positioning it whichever way you like, you can have a striking pattern in your garden all year round.
Up the Walls
One popular alternative use for artificial grass involves putting the turf on the wall for a truly unique feel - outside and inside. While some continue laying the grass up their exterior walls, some even go as far as to use fake grass as interior wallpaper in children's bedrooms and play areas.
If you are interested in trying out one of these quirky uses for artificial grass or are simply looking for an easier way to maintain your lawn, please get in touch or call our team on 01474 364320.