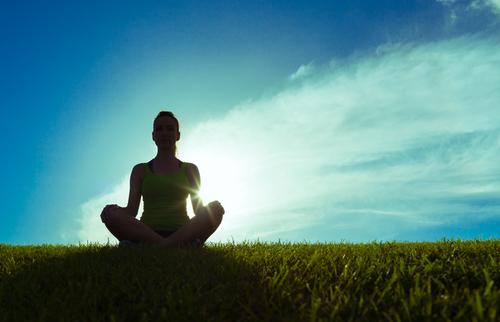 To meditate is to think deeply, and to think deeply we all need a little peace and quiet. With a house full of kids, their friends, toys and pets - as well as chores building up and the TV and computer vying for attention, it can often be hard to find solace in the home. We can't all live with the countryside on our doorsteps as a retreat from it all, unfortunately, so the rest of us need alternative means to find our inner peace.
This May we saw garden meditation day, so here at Artificial Lawn Company, we thought we would help you find a way to reconnect with the planet in as much of a peaceful and serene setting as possible.
Garden meditation requires a calm and relaxing environment, where you can escape the humdrum of everyday life and forget about your stresses and worries for a short while. To that end, we suggest that artificial grass is your best course of action for your meditation spot! There is nothing worse than trying to relax and find peace for a few moments and being reminded that you need to mow the lawn.
What else can you do to create your zen garden?
Think about what is relaxing, calming and restful to you. This might be specific colours, something peaceful to sit in amongst nature or even a babbling water fountain. Make the best of your garden situation and the space available to you with some careful planning, and your garden meditation will be every bit of recuperative as you need it to be.
Give yourself something calming and soothing to look at; a gradual raised bed of your favourite flowers for a fragrance that puts a smile on your face, a bamboo fence, stone pathway leading to a hidden seated nook, perhaps an overhanging tree and a pergola to get away from it all.
The best thing about having artificial grass for your meditating garden is that you won't need to use any chemicals to maintain or control it - which means your garden is also eco-friendly.
Such an environment attracts insects and wildlife, which only adds to the natural ambience in your sanctuary.
For more meditation garden inspiration, please click here.
To get your garden up to meditation, peace and harmony standards, try out artificial grass and you'll be amazed at the difference it makes for your peace of mind.
Please contact us should you require any further information or to order your new fake lawn; you'll soon be floating away peacefully in your mind's eye.