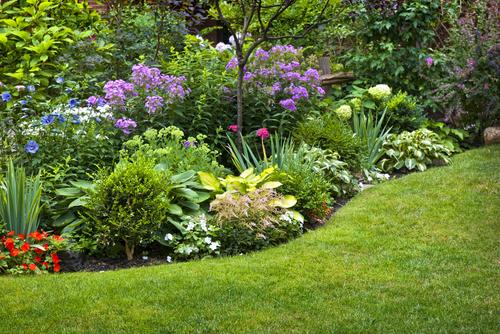 People across the UK make new year's resolutions every year; some are easy to keep, some, on the other hand, can be much harder. When it comes to your garden it can be far easier than you think to stick to your resolution. If your garden is in a terrible state it can be difficult to know what to do but you could change this by starting over completely or by adding small touches. Your garden is a sanctuary and it should feel as comfortable as your house so it's time to start making some changes, look at artificial grass prices, ornaments and water features to improve the look and feel of your garden this year.
Start Over With a New Lawn
Your lawn is a key feature of the garden, it breathes life into what otherwise would just be a muddy mess. If this sounds like your garden, you might want to consider starting afresh by switching to artificial grass.
Artificial grass can give your garden the chance to look beautiful again. Many people don't realise the benefits of artificial grass, but the truth is, it's far easier to maintain than real grass. It's worth taking a look at artificial grass prices to get a sense of what you'll be spending, it might seem expensive now but in the long run, you'll save an absolute fortune.
Instead of buying products to improve the condition of your grass and going through various overpriced lawnmowers to keep it tamed you will be able to sit back and enjoy the benefits that artificial grass brings.
Add a Water Feature or Bird House
Water features can add a touch of elegance to your garden whilst giving it an incredibly relaxing atmosphere. Although it might be cold out now, when the sun eventually comes out during the spring season a water feature could bring you endless hours of joy.
Local creatures might visit your garden all year round and because you don't currently enjoy your garden, you might be missing them. Adding a birdhouse or even a birdbath could bring you a little closer to nature.
Ornaments
If your garden seems to be missing a little something, consider taking a look at garden ornaments; there are options aplenty and scattering them around the garden makes for an interesting display.
Ornaments can be grouped, giving local animals places to hide; if there isn't a lot of room in your garden, ornaments come in different sizes so you will, no doubt, find something suitable to fit your garden.
These are just a few of the many things you can do to improve your garden, so make your garden your sanctuary and start to enjoy it this new year.
For more information on artificial grass click here o give our friendly team a call on 01474 364320 today.