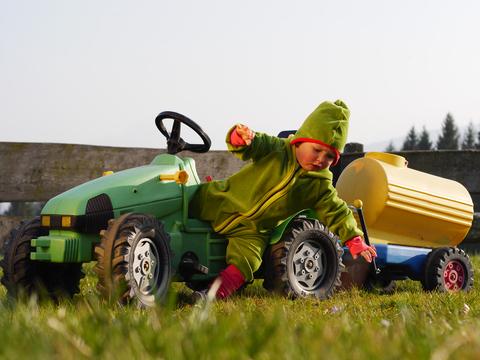 Ok, here at ALC we know summer is all but over. The sun has taken off his hat and is officially not coming out to play until next April at the very least! But, have you ever tried telling an eight-year-old child, that they're not allowed out to play? You're most likely to be confronted with a torrent of tears and tantrums. Here at the Artificial Lawn Company, we care about the kiddies and believe that those formative years playing are essential in a child's development. Furthermore, we understand that many of our customers do not have the luxury of a 100ft garden, coupled with additional trees and a tree house to play in. This is why we have compiled a list of top 3 artificial grass toys for kids to play on, regardless of the weather.
Toy Tractor
We're sure you know what young boys are like. They're obsessed with either two things: toy tractors or fire engines. Seeing as it would be near on impossible to squeeze a 12 tonne fire engine into your living room, we're going to go with the tractor on this one. With the toy tractor, a lot of mess can be made. The kids will have hours of fun, riding up and down your fake lawn, or being pushed and pulled by granddad. Most of the time, this fun will involve transferring rocks and digging up flowerbeds. While this is enjoyable for them, the wear and tear on normal grass would be disastrous; this is where fake grass comes in handy. For sheer durability and toughness, nothing can beat artificial grass. With no soil or roots to turn up and destroy, your fake lawn will remain in perfect condition, while normal grass would become bald and patchy. Click here and be amazed at how efficiently we install your excellent faux lawn today!
Wooden Play Centre
Children need things to climb on; it's in their nature to forage and hide. However without a large garden, this can become a problem. The beauty with installing an artificial lawn on a roof terrace is that you're giving the kids, and yourself the chance to have the garden you never had. With a wooden play centre, the kids are free to clamber and roll about with all the freedom they would aspire to have in a garden. A play centre offers a safe place to play, while an artificial lawn offers you safety in the event of a trip or fall. Our grass is cushioned underfoot, so that if the little ones do slip, there is less need to be concerned about any possible injuries. Used across the country in nurseries and playgrounds alike, playground grass really is the answer for those who are struggling for room.
Sand and Water Table
If you've got kids, you would've no doubt ventured down to the park recently. While you were there, you may have noticed the condition of the grass surrounding the sand and water pit. As kids exit the pit, they trample sand and water into the grass, which then becomes weary, weak and ugly. The grass slowly dies and then becomes a puddle of mud, whereas with artificial playground grass, the water is absorbed into a cell foam layer that allows the water to be drained. So there will be no need to put the kids in wellies and waterproofs if they want to nip out for a quick play. As with all sand tables, the sand inevitably ends up on the floor around the play area and quickly ruins everything in its surrounding. Well, you needn't worry about this with fake grass, as our lawns love sand. In fact, it's actually protected by sand, which aids the water drainage system underfoot. Not only are our fake lawns practical, but they have the ability to endure an extreme amount of wear and tear.
In conclusion, remember, your kids don't need to be deprived of garden toys, because with Artificial Lawn Company, anything is possible. For more information on how we install and fit fake grass, please visit our website for further details. Happy playing!