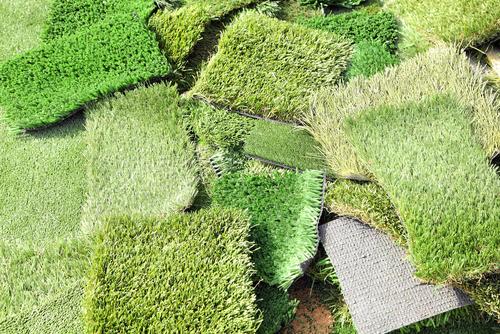 You've done the hard work and your artificial lawn has been laid - so now you can sit back and enjoy the fruits of your labour. The lawn looks beautiful, but there's just one drawback; you have a neat little stack of offcuts that need to be moved before you're completely finished.
No matter how well you've planned, a few scraps here and there are inevitable. We're all for making the most of artificial grass prices by upcycling where possible, so why not keep hold of your unused grass and re-purpose it? We've got some quirky ideas below; we'd love to hear yours!
Table Runner
If you have a longer off-cut and a long-shaped dining table, then you have a ready-made canvas for a unique table runner. Easier to clean than your typical cotton table runner and guaranteed to be a talking point at your next dinner party. You could even go with a whole outdoor theme for an entire meal; a great way of getting the family involved in dinner time!
Coasters
Snip your artificial grass offcuts into circles or squares and use them around the house as coasters for drinks. Whether you only bring them out for visitors or have them as everyday homeware, it's certainly not like anything you can get at the local supermarket.
Drawer Liners
So you've not got enough space in your garden for a proper vegetable patch, but that doesn't mean you can't use the inspiration to create vegetable storage in your kitchen. Use an off-cut to line a large drawer where you keep vegetables. It's a fun way to re-purpose artificial grass offcuts and adds something really unique to your kitchen.
Cosy Corner for Kids
Children love playing outside, and adults would love to see them read more. Why not marry the two and create a little nook in your child's bedroom and use a fake grass off-cut as a mat, and frame it with cushions? You might not be able to guarantee a completely authentic al-fresco reading setting with unpredictable weather, but you can guarantee that showers won't ruin the fun.
Crafty Fun
Another one that's great for the kids (and big kids too!); stash some artificial turf offcuts with your crafty bits and pieces and you never know when the right project might arise. Perhaps one of your children has been asked to create a nature-inspired diorama? Shadow boxes are a great rainy day project for the whole family, and you can even keep the finished products to display at home.
There really aren't many limits on uses for your unused offcuts, and this is just a taster of some projects that could give you extra mileage out your overall investment and really get some mileage from the price of your artificial grass.