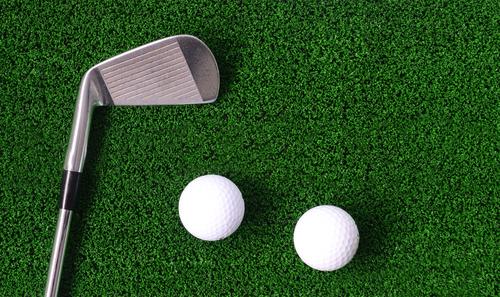 Golfers will be hitting the putting greens in force this May to mark Golf Month - and artificial grass ensures you can get in a full 18 holes no matter what the weather. Doesn't that sound great?
This month, golf fans around the country are encouraged to get out the clubs and hit the course. Although your swing might be more in the woods than Tiger Woods, artificial grass will keep your surface as green as the famous Augusta National Golf Club.
Artificial Putting Greens
Golf clubs have begun to incorporate artificial putting greens into their courses in order to allow as many members as possible to get around in or just practice their swings, even with the unforgiving British weather that can bring an early end. Although you cannot do anything about the below par weather, you can better manage the effect it has on your game.
Artificial grass comes installed with a drainage system that allows for moisture to clear far quicker than in real grass. This means that keen golfers can get back onto a quality course in no time following a downpour.
High Resistance
Using a synthetic surface also means that the green will not cut up anywhere near as much as the real thing, so you need not worry about leaving the course with more sand pits than when you found it!
The surface is designed to hold together, even when subjected to rough play. With many different variants available, anyone can install the perfect putting green for their requirement - even if in the back garden.
Low Maintenance
Another reason why many are moving to artificial grass is due to its low maintenance and durability. Following rainfall, all that is required is a quick brush of the surface to help drain away any standing water, and the surface is good to go.
Whereas real grass can incur hefty maintenance costs, synthetic surfaces do not - if any at all - allowing the owner to spend that money on investing in the latest clubs as used by Rory McIlroy.
Other Sports using Artificial Grass
Many sports make use of the surface including, but not limited to, football, cricket, rugby, tennis and American football. Not only because using synthetics provides a better playing surface, but also due to its flexibility as it can be used inside and outside.
For more information on using artificial grass for sports, please call the Artificial Lawn Company team on 01474 364320 today.