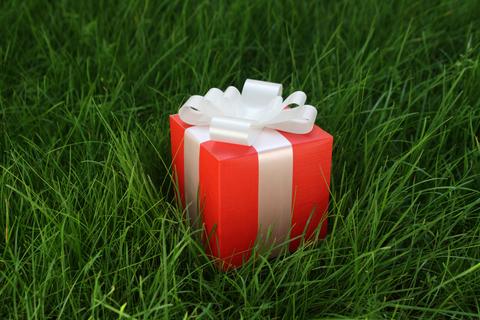 Here at www.artificiallawn.co.uk we say there is nothing quite like the great outdoors to lift the spirits. The effect a fresh bunch of flowers or a turn around the garden has on a person is a testament to the beauty of nature. So why not give nature as a gift?

Yes, the natural world is all around us, all the time. But sometimes we could do with a reminder; a snippet of all that beauty, packed prettily into a box, demanding our attention. Gifting a garden is a step up from the traditional cactus or rose bouquet, but it can make for a wonderful birthday or Christmas present.

You can gift a garden to anyone; your friends, family or – if you are so inclined – your home. Gifting a garden is unusual, and should be treated as a feature gift, not a stocking filler. Do you know someone who is house proud, but struggles to keep up their garden due to ill health, age or other constraints? Could you pool together with other friends or family members to give this someone a brand new, picture perfect and easy to maintain garden?

You may see the garden as a home improvement issue, rather than a worthwhile gift for big occasions like Christmas, birthdays or even weddings. However, think what such a gift would mean to the recipient.

You may also see it as a straightforward gift; you're giving them a patch of artificial grass, some pretty potted plants and a new set of garden furniture. They will see it as so much more. For them, when you gift a garden, you take the weight off their shoulders, provide them with a new private oasis to enjoy every single day, and transform their home. This kind of gift will last far longer than any designer item or fancy fad. Visit our website for a vast range of high quality fake lawns.

So why not speak to your nearest and dearest and think of a way you can give back by gifting a garden this Christmas? Perhaps you have someone's big birthday to celebrate? Or maybe you are part of a small group who want to do something nice, just because. Whatever the reason, you have the perfect opportunity to gift a garden.

Of course, if you really struggle to gift an entire garden because of time or budget constraints, why not gift a garden on a smaller scale? Say, a garden in a box.

Those of you with green fingers can go all out and cultivate lots of pretty little plants and delicate flowers. You could come up with a creative display. A true in-box monument to nature, your horticultural skills and the person you are gifting the in-box garden to.

Alternatively, if you want to keep the actual gardening part simple, opt for statement-making plants like orchids or hydrangeas, and put 100% effort into the display and presentation. You can use a well-decorated box, lined with tissue paper (or artificial grass!) and topped with a bow, or you could get artistic with cellophane wrapping. Either way, you will be able to share the same natural beauty as you would gifting a garden.

If you want to gift a garden and you have someone in mind to receive it, get in touch with Artificial Lawn Company to find out more about artificial grass and how it can help your cause.