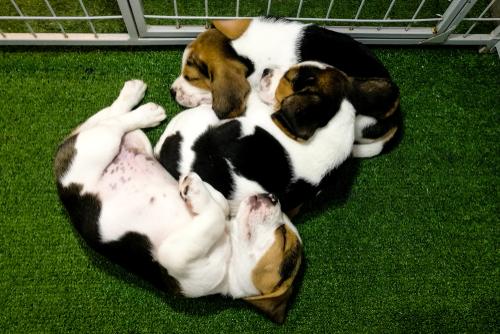 In Britain, we are a nation of pet lovers, from the smallest rodent to the largest horse, we go a bit crazy for our pets. We believe that they deserve the very best, from luxury collars and designer leads to home-made food and even memory-foam beds!
What if we could give our pets more, though? Like their own private garden or an indoor area made up for them to visit their litter tray without worrying about the mess? Using fake grass for pets is recently becoming more common and being used in a number of interesting ways.
Fishtanks & Vivariums
While we definitely recommend checking with your local aquarium store or reptile keeper, there has been an increase in the number of pet-owners using artificial grass in their fish tanks and vivariums. It creates a more natural look and can be easily washed down or scrubbed to remove algae or animal waste. It can also easily be attached to the walls for your creatures to climb through and the bright green colours help reptiles feel more at home.
Cats
There are a few places you can use fake grass for your cat. Consider dressing up their cat towers or using on one side of a scratching post. This gives your cat somewhere else to rub against or scratch and can be easily and cheaply replaced. Alternatively, if you've got indoor cats, give them a taste of the outdoors by placing artificial grass on windowsills or floors where they might lay.
Dogs
Does your dog love to roll in the grass? Or maybe that's his or her favourite place to snooze? Bring the outside in and line a dog-bed with artificial grass. It's great for use with pets as it can be easily washed down and doesn't soak up doggy odours like blankets and pillows.
If you're trying to house-train a puppy, build your own artificial grass potty-box. Simply take a shallow box, drill or make some holes in the top, line the inside with absorbent material (making sure it's water-tight!). Then cover the top with artificial grass. It can be easily rinsed down day to day and will soon have your pup ready to use the great outdoors.
Are you looking for ways to use fake grass for your pets? Or maybe you are considering artificial grass for your garden? Artificial turf is becoming more popular for use - both inside and outside -across the UK. Get in touch with us today to find out more!