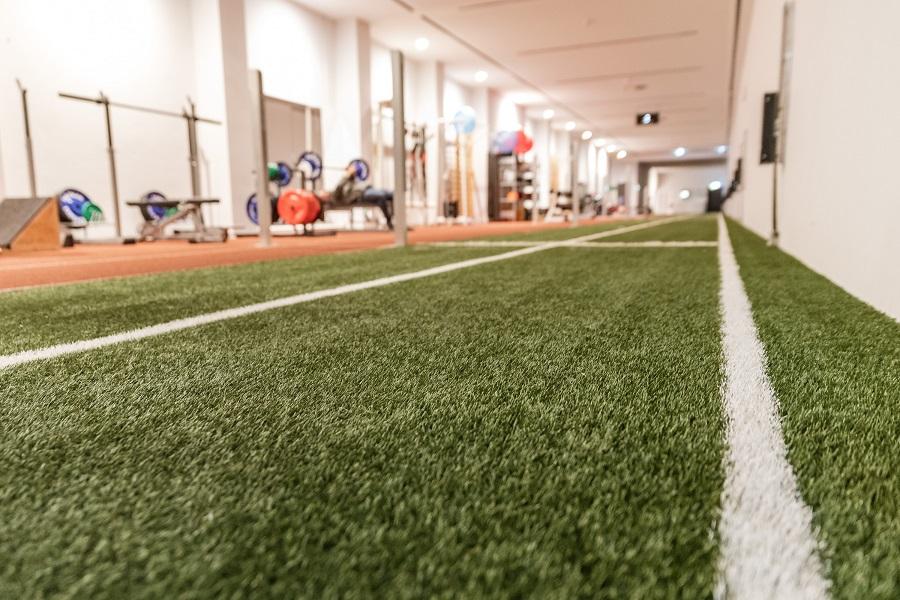 Gym flooring needs to be robust and durable in order to withstand the amount of footfall and intense exercise it sees. This includes people doing cardio circuits throughout the day, as well as heavy equipment being placed on top of it. In addition, the floor needs to be secure and safe in order to provide gym-goers with the support they need to complete their exercise routines without risking a trip or fall.
Indoor artificial grass is the perfect flooring solution for gyms and sports facilities. It is among the most durable options on the market, capable of withstanding heavy foot traffic and persistent use without being easily damaged. It also mimics natural turf, giving users a sense of familiarity to ensure they train and perform at their best.
We routinely install indoor grass in gyms and sports centres, but one of the most common questions we get from facility owners is how to clean artificial grass. If you own a gym or sports centre, or if you have a home workout area indoors that features fake grass, keep reading to find out how to clean it properly and keep it looking in tip-top shape.
1. Remove debris
The first step to cleaning synthetic turf is removing any surface debris. This means picking up larger bits of dirt such as leaves or twigs that may have been walked in, as well as remnants of tissue, wrappers, and even equipment that may have been left out. This will leave you with a clear surface to begin cleaning properly, but it will also allow you to identify any problem areas that may be stained or particularly grubby.
2. Vacuum the surface
Once you have picked up larger debris, the surface should be clear enough for you to vacuum. Many people assume that artificial turf can't be vacuumed because doing so will damage the fibres of the grass, but this isn't true. Synthetic turf is incredibly robust, but to a certain extent, you can treat it like a carpet. It is only when the grass is sand filled and installed outdoors when we don't recommend vacuuming your artificial grass.
Gyms see a lot of people every day, and due to the nature of working out, it's inevitable that the floor will get sprinkled with things like loose hair and small fragments of dirt from the bottoms of shoes. You won't be able to pick up each and every piece of hair or dirt, but as a facility manager, you have a duty to make sure the area is sterile and clean for every new person who comes in.
With this in mind, you should vacuum fake grass within your gym regularly. This means people doing circuits don't need to worry about dirt and debris sticking to their hands or legs whilst working out, and your gym won't get a reputation for being poorly maintained.
3. Brush the bristles
Fake grass can withstand heavy and persistent use without damage, but if you want to keep your sports floor looking like new, you'll need to use a broom to brush against the grain of the grass. This will encourage the fibres to stand up straight, reducing the flattened look of well-used grass. At Artificial Lawn Company, our Active Lawn features W-shaped fibres. The benefit of this is that the turf has improved bounce-back capabilities, but brushing against the grain is still essential to preserve the longevity of the lawn and keep it looking its best. Or another great choice for a high-use sports area would be our Pedigree Lawn.
4. Spot clean stains
If you've noticed any problem areas that appear to be stained after vacuuming and brushing, you'll need to set about carefully cleaning them. Generally speaking, the main stains you're likely to encounter in a gym or sports setting will be water-based. This means things like water, juice, or even blood from minor scrapes or injuries. Water-based stains are fairly easy to get rid of using the suds from detergent and some cold water on a sponge.
You need to be careful not to overdo it with the water because the last thing you want is to create a soapy ring on the turf. Start small – you can always add more later on.
You might occasionally come across a more stubborn stain such as chewing gum. In this instance, you'll want to remove as much of the gum as you can by hand, and then use a freon spray to freeze and remove the rest. Afterwards, you may wish to use the method above to clean the fibres where the gum was.
5. Disinfect the grass
The next step to cleaning your artificial grass is to disinfect it. This will ensure the surface is sterile and suitable for use. Never has this been more important than following the pandemic. In terms of artificial grass disinfectant, you'll want to use a surface disinfectant or a carpet deodoriser. Giving the turf a once over with either of these solutions will prevent the spread of germs and bacteria that could cause illness. How often you do this is up to you – it could be once a month, or it could be every couple of months. It depends on the use of your gym.
Installing Artificial Grass in Gyms
Maintaining synthetic lawn in sports facilities is relatively easy and hassle-free. If you want to find out more about installing artificial grass in your gym, please contact us to find out more. Alternatively, get in touch if you would like more advice about maintaining your existing fake lawn.