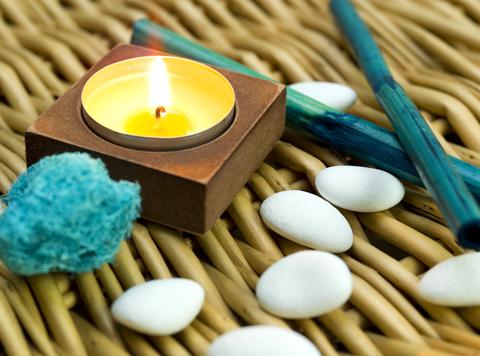 In the office at Artificial Lawn Company we asked can you remember the last time you were so relaxed you felt your toes tingle and every weight and knot locked in your shoulders melt away? That feeling where a little smile is spreading across your cheeks and you feel the warmth of your scalp travelling all the way through your spine and you could just close your eyes and drift off; bliss.
Well, the pampering season is upon us; it won't be long until we're battling the Christmas shoppers and the January sales are making us question the world's sanity. So, what better time than now to prepare your body for one of the most trying seasons of all. You've made it this far through the year and earned yourself a little me time, but it's been so long that you've forgotten how to wind down.
Grab yourself a cuppa and we'll take you through some of the best ways you can achieve a moment of Zen. Stop! Put that phone down and lose the work diary too, then we can continue.
A Spa Retreat
The body and mind recharges and refocuses itself during rest periods such as sleep. Getting enough sleep is vital for a peaceful and balanced being however; sometimes we need that extra bit of respite in the form of a dedicated relaxation retreat. Spa days can conjure up different images to different people. Some may envisage a steaming pool with hot stone massages and scented candles while others may imagine getting their nails done while having afternoon tea. This factor is very important; depending on what springs to mind is a pretty good indication of what your body is calling for.
Jobs that involve more manual labour or perhaps chasing round after small children may mean you'll benefit more from a deep tissue massage, releasing all the toxins trapped in the muscles and tissue. Office jobs often mean a build-up of a lot of tension in the neck, shoulders and back; a massage focusing on these and some time in a hot sauna or Jacuzzi will help to loosen the muscles. Click here for our most relaxing grasses!
Home Spa
Today's work ethic means that many of us simply don't have the time to get to a spa break. Well fear not as there is an answer to that common problem. Taking your relaxation into your own hands is a possibility and can be very effective, so long as it is done with full dedication. This means no phones, TV or other distractions.
Equip yourself with; a facemask, warm towels, scented candles/incense, maybe some fancy chocolates, soothing music, a foot spa and a fake lawn.
You may, understandably, be wondering about some of the things listed above and how fake grass might help you relax. It is understood that having your bare feet on fresh, lush grass can bring a real sense of calm and togetherness. Being around nature or animals can also work wonders on the senses, even just stroking a cat is said to help with depression.
Setting yourself up so you won't be disturbed is vital to your relaxation state. Have your foot spa at the ready with water, warm towels within reach, chocolates ready, facemask on, and music on shuffle. To further aid the reduction of distractions, consider popping cucumber slices on your eyes or an eye mask.
Whether you decide to take some time out and pay a beautiful retreat a visit, or you decide to close the blinds and unwind in your own sanctuary, be sure to truly relax and make the most of your little break.
If you do decide to go down the home based retreat avenue, be sure to take a look at the grasses we offer. These can provide endless hours of relaxation and you could even take it to work to pop under your desk. Go to www.artificiallawn.co.uk for a fantastic choice of fake grasses!