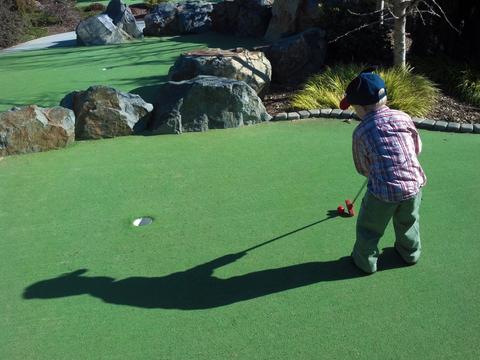 If you have a dull spare room, you may be wondering what you can do with it to add something special to your property. Though you have the option of sprucing up the interior to create a spare bedroom for guests, why not try something a little different that can still be enjoyed by visitors?
The winter comes with many perks; from beautiful scenic trails to wrapping up warm and enjoying festive films with a mug of hot cocoa, there is still plenty to do during this time of year.
However, if you're a bit of a sports nut or you just enjoy the occasional game of skittles on the lawn, this time of year is unlikely to be your favourite season.
That said, there is still a lot you can do to enjoy fun family games without having to wait for the grass to dry. Cue: synthetic grass.
An artificial lawn from wwww.artificiallawn.co.uk can offer many benefits, including durability and a low maintenance guarantee. But are there any more pros we can take advantage of by installing artificial grass? Of course.
On top of those mentioned above, a fake grass lawn can also provide the perfect alternative indoors, as well as in the front or back garden. Due to its versatile nature, it can be installed almost anywhere.
So why not consider creating an indoor games room featuring a synthetic lawn? Not only will it be totally unique, it will be great fun when friends and family come to visit.
Now we've sorted out the surface for your indoor artificial grass games room, let's take a look at what activities you can enjoy in good company.
Bowls
Promising hours on fun, this game can be turned into a light-hearted competition between friends, or family members if you want to keep it closer to home. All you need is a set of bowls balls, complete with a small white ball to set a target.
If you don't mind breaking with tradition though, you can use other items such as a ping pong ball for the target and several elastic band balls to bowl.
If, however, you want to make the game a bit harder, you could spray paint a white circle on the artificial turf. You could even create a new set of rules and come up with a completely unique game.
Miniature Golf
Depending on how big your spare room is, consider setting up a miniature golf course on your artificial lawn. Not only is this great fun for everyone involved, but it will help you brush up on your skills before your summer holiday tradition of playing on a full-sized mini golf course.
All you need is a couple of plastic golf clubs and plastic holes to place around the grass. Then, you can put your putting skills to the test and make the most of your indoor fake grass games room. Visit our website today for the UK's most durable range of fake lawns!
Croquet
Whether you want to design a Queen of Hearts style croquet course or opt for something a little more traditional, be sure to add a splash of colour in there somewhere. This, accompanied by your green, green grass is sure to create a lively, fun and happy atmosphere, whatever the weather is up to outside your window.
These are just three game ideas courtsey of Artificial Lawn Co that you can try on your indoor fake grass; perfect for a Friday evening or for when friends and family come to visit.