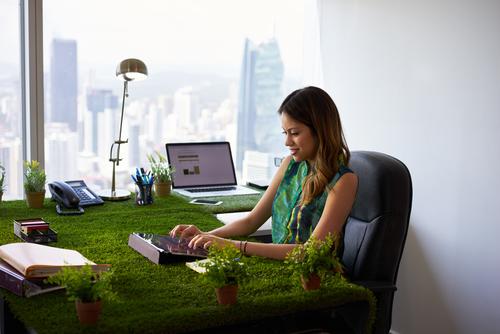 Anything that increases office productivity is a win in most people's book, and tweaking the work environment's appearance is a great way to flex your creative muscles to make an innovative and engaging environment to boost staff morale. Here are some of our favourite uses of artificial grass in an office space.
We love this quirky use of artificial grass in the Onefootball office in Berlin. As well as greenery for meeting rooms, the design features a three-lane track that follows the shape of the office. Great idea for encouraging regular exercise for employees, surely!
Skype - California
Communication giant Skype hits it out of the park with this fantastic 'collaboration space' that invites employees to come together in a meeting area that feels like being outside in summer. We're also a fan of how open it feels while still being a private space for brainstorming.
Innocent Drinks - Northwest London
Imagine being able to feel the grass under your feet while you work. The weather might not always allow for this, but artificial grass serves the same purpose as shown by Innocent Drinks in London. The fun loving drinks company has kitted out its offices with fake turf where people actually sit and work, making for a creative way to engage its staff with something a little out of the ordinary.
BICOM Communications - Montreal
Stepping completely outside of the norm, this Canadian PR firm chose to upholster some of its walls with synthetic grass. We think it looks strikingly modern, and it certainly creates a focal point and topic of discussion which perfectly reflects the ethos of a communications company.
What is a more well-suited space that uses artificial grass for dogs than a company that specialises in equipment and accessories for man's best friend? Staff can bring their canine pals into work where they can relax and play on the fake lawn while testing out new toys. If only it were standard for all of us to bring our pets to work.
Artificial lawns make a great choice for a unique and fun office addition with the added bonus of sparking creativity and productivity among staff. What's more, it's incredibly easy to maintain and keep clean.
If you're interested in kitting out your office with some artificial grass, feel free to browse our range of lawns. Our customer service team are on hand to help out should you need their assistance.