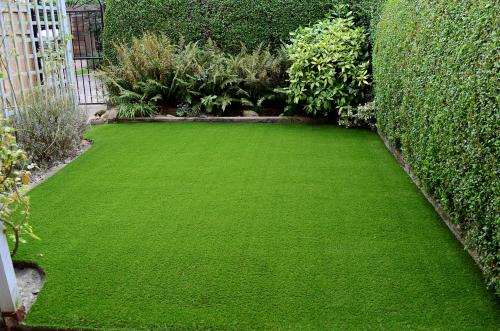 There has been a recent trend of artificial grass installation across the UK - and not just in the garden. We've seen artificial grass installed in the lounge, in children's bedrooms and playrooms, on balconies and on roof terraces! There is no end to the ways artificial grass can be implemented in and around the home and even businesses have been getting on board, installing artificial turf in boardrooms, break-out areas and using it as part of their exhibition displays.
If you haven't yet jumped on the artificial grass bandwagon, you might be wondering what all the fuss is about. Is artificial grass truly worth it? Will it really save time and money? Will it make your garden look fake or plastic? Worry not! Artificial grass has come a long way in the last decade and the synthetic turf of today consists of soft, natural-looking fibres in many shades of green. This ensures that your garden not only looks the real deal but feels great underfoot (or under paw!). In addition, it is also low maintenance and there are no hosepipe bans to worry about turning your private green haven into a dusty desert of dirt.
Why Choose Artificial Grass for Your Garden?
Choosing to replace your garden with artificial grass has become a popular way to have year-round access to your garden, whatever the weather, without the risk of tracking dirt on clean carpets or having to look out across a muddy patch of thinning grass. Artificial grass is also popular for its low maintenance needs. You won't need to seed, fertilise or water an artificial garden and instead, it only requires brushing with a stiff-bristled brush once or twice a month to keep the fibres standing upright.
What if you could have all the benefits of a garden without all the hassle? With artificial grass, you absolutely can!
For Families
If you are maintaining a family home, you know that sometimes the garden is the best place for the kids to burn off their excess energy safely while you can get bits done either in the garden or around the house. However, with British summers the way they are, the occasional downpour or thunderstorm is a given. Luckily, artificial grass can give you peace of mind against muddy clothes, dirty shoes and grass stains. It also stops your garden becoming a muddy mess from regular footfall or high-energy activity. No more singing for the rain clouds to go away – because the kids can still play!
For Pet Owners
For the dog lovers among us, no doubt you love the "smile" your pup flashes at you in excitement for getting out in the garden. However, it can also be with a heavy heart that you let them out to enjoy themselves. Between determined diggers, unsightly yellow stains and dirty paw prints tracked throughout the home and on the furniture, giving your dog the run of the garden can just lead to more mess and increased cleaning chores.
Artificial grass is the answer to your problems - manufactured in such a way to prevent dogs digging it up but still soft on sensitive paws. Whatever the weather, Fido is going to stay mud and grass free and won't be tracking half the backyard indoors when it's time to flop in front of the fireplace and snooze. In addition, pet urine will drain away or can be washed away with the garden hose. For the larger toilet waste, simply collect as normal and rinse the affected area down. If you experience any staining, simply wipe away with a vinegar-water mixture.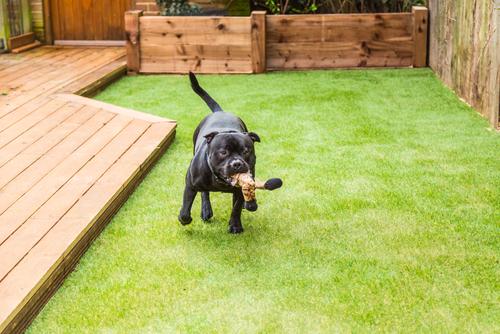 For the Retired
When you are retired, you may have more time spare in the day, but do you really want to spend your best years catering to a high-maintenance lawn? The constant bending over, hefting heavy watering cans, stressing out over bald patches or an influx of weeds? Spend more time relaxing in the garden and less time maintaining it with an artificial grass installation. It only requires light brushing a few times a month and a leaf blower can be used to blow away any troublesome leaf litter and debris.
Choosing the Best Artificial Grass for You
So, you've decided the garden needs a makeover and an artificial garden is the way to go. The next choice to make is which artificial grass you are going to have installed. There are plenty of styles and shades to choose from – whether you go cost-effective with a simple and short Easy Lawn or treat yourself to more luxurious grass with varying colours and fibres for that truly realistic appearance.
If sports and games are what your garden is used for, you'll want a heavy-duty fibre that stands up to high levels of activity - something which is also essential for a pet-friendly garden. Higher-quality fibres are better at bouncing back and are able to withstand the hustle and bustle of excitable paws and busy feet.
No Garden? No Problem!
Artificial grass isn't just for replacing a grass garden but can also be installed on concrete paving and patios or used on a balcony or roof terrace. If you have no outside space but would still like the option to feel grass under your feet, why not fashion some bathmats or a lounge rug? Artificial grass still feels great under socks or bare feet and can be great for creating different textures in a sensory environment. Picture yourself curled up in the winter with a good book, your favourite drink and still being able to run your feet through soft, natural-feeling grass fibres.
In a flat with pets? Why not give them their own slice of the outdoors with an artificial grass bed cushion? You can even fashion an indoor toilet using a plastic tray, perforated lid and an artificial grass top. Not only do you encourage good habits for teaching young pups to use the toilet outside, but it saves accidents on the carpets and furniture if you have a toilet readily available to your pet.
Artificial grass can bring plenty to your home, even if it is just saved time, money and effort. With just a small amount of maintenance, your artificial lawn will last year after year and when you look out across your continuously lush, green, perfect garden, you are sure to smile.
Still not convinced? Don't just take our word for it, why not see what our previous customers think of their artificial gardens!