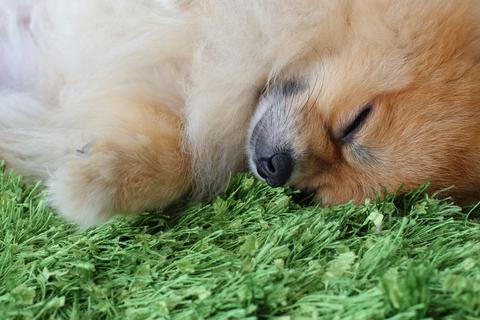 Like humans, dogs are also susceptible to allergies and symptoms. One such allergy that is actually quite common is to grass or, to be more specific, grass pollens. These pollens tend to be released at the end of spring and start of summer, and some symptoms of an allergy in dogs include:
Itchy skin
Diarrhoea
Ear Infections
Watery eyes
Frequent scratching
Also, whilst any breed is vulnerable to developing an allergy, in this case to grass pollens, they appear to be more common in breeds like Retrievers, Bulldogs and Pugs, to name but a few.
In addition, if you leave your grass to grow too tall, allergies are likely to worsen as it is at this stage pollen is released into the air. This may cause your pup extreme discomfort. So, what can you do aside from giving your lawn a trim to help reduce the chance of an allergic reaction? Well, artificial grass is a great option. Just click here to read about our extensive collection of fake grass lawns!
As fake grass lawns aren't a living thing, they will not release pollen into the air, which will help to dramatically reduce the likelihood of an allergic reaction. Plus, you don't have to worry about maintenance either, meaning more time to spend with your beloved pup on your new, pristine lawn.
Its realistic appearance will also keep both you and your pet happy all year round, and it is resilient to the elements, meaning no more dry muddy patches. This also ensures the utmost safety for your pup, helping to reduce the chance of injury, as well as keeping them from digging up your lawn from time to time.
Artificial grass is fantastic for dogs and playful pups that enjoy a roll around and have plenty of energy. Safe, secure and grass allergy-friendly, see more about artificial grass for dogs to find the right one for you and your pet.
Alternatively, you can get in touch today to find out more about our installation service, or if you have any specific queries, we will be happy to answer them. We look forward to hearing from you!