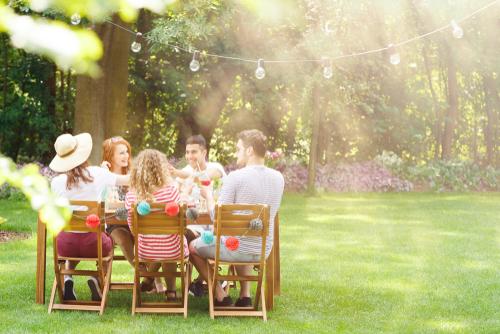 It feels like it's been a very long winter, doesn't it? Those dark nights seemed to go on forever and the sunshine has only made some very rare appearances. However, the weather forecast is starting to improve slightly, so now is the time to start getting your garden ready for the brighter months in the calendar.
This means that we can now look forward to heading outside and enjoying the sun whilst sprawled across realistic imitation grass… hopefully catching a tan in the process! Only one question remains - is your garden summer ready? If not, then read on for Artificial Lawn Company's helpful advice on how you can transform your garden from uninviting to enticing.
The Big Tidy Up
First thing's first, you need to start tidying up anything that's got out of control in and around your garden. So, if your crawling ivy is taking over the world, or at least your next-door neighbour's space, get to work on it now. Likewise, if you have any trees or hedges that need cutting back, now is the best time to get it sorted.
The longer you leave any weeds, the longer it is going to take to clear them. It doesn't take long for one annoyance to grow into a full-blown problem and that is when action has to be taken. Of course, if you have already made the move over to any of Artificial Lawn Company's immaculate synthetic turfs, such issues won't be of concern to you!
Low Maintenance Grass
So, that brings us to trading in your real lawn for something that looks every bit as pristine at just a fraction of the effort and maintenance. Perhaps you are tired of spending endless hours tidying up your garden and mowing the lawn? If so, this could be a great time to consider a more low maintenance approach such as installing artificial grass. You could quickly turn your garden into a beautiful outdoor space simply by installing imitation grass.
Artificial grass has become increasingly popular for people looking to make sure their lawn always looks tidy. If your grass is constantly getting worn away, perhaps by endless games of football or excitable pets, then artificial grass could be your saviour. With various turfs available, suited to a wide range of activity, no longer will you have to worry about the kids kicking up the turf or the dog's muddy pawprints. Simply sit back and admire your lawn!
Treating Wood
The next time you get a dry day, it could be the perfect time to inspect and treat any wood, like decking, fences, and sheds. External wood is notorious for getting damaged throughout the winter months, so you may find that you have quite a bit of work to be done.
Giving your wood a fresh coat of paint can make the world of difference, so you will be ready to invite your guests round for that last minute barbecue when the sun comes out without the embarrassment of peeling paintwork. Alternatively, rather than giving any timber a coat of paint, you may opt to varnish the surface, particularly if you are a fan of the natural appearance. Depending on how much rainfall your area sees on average (in London, it's a fair bit!) you may want to consider varnishing wooden surfaces once or twice a year.
Jet Wash the Patio
Jet washing the patio is a job that starts off feeling like fun but, after a few hours, you will be sick to the back teeth of doing it. When you first start jet washing, it is amazing to see how quickly the dirt comes away and leaves your patio tiles looking like new.
If you have a large patio, that feeling of enjoyment will quickly disappear, so if you can delegate it to another member of the household, then that is always worth trying! Once the jet washing is completed, your patio will be sparkling and will look so much nicer. If you are doing other jobs that will make the patio dirty, then make sure you do those jobs before the jet washing, so you don't undo all of your hard work!
If you would like more information about Artificial Lawn Company's range of artificial grass, please feel free to get in contact with us today.