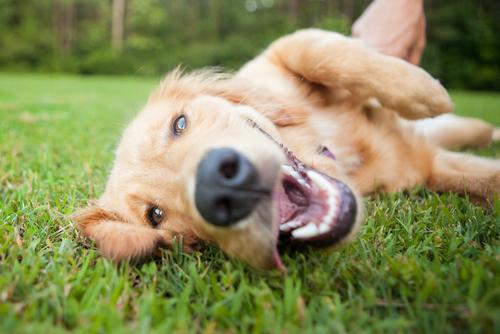 Whether you simply dislike the colder weather or don't have the time to maintain a garden the whole year round, having pets that do their business outside can be a little frustrating for many home-owners. Although we love our pets like they are our own flesh and blood, this frustration needn't get you down: simply replace your lawn with our artificial grass for dogs.
This exciting range is perfect for pet owners who want a garden that looks great all year round with minimal effort, and a garden that is perfectly safe for their beloved dogs to be around but they are much less likely to damage it. To recap, it looks good, and your pets can't destroy it. Got it? Good.
Why You Need Artificial Grass for Dogs
First and foremost, it's important for us to remind you that dogs can be messy. They love splashing in puddles, traipsing around in mud and licking everything they shouldn't. Furthermore, they can be quite excitable and energetic. Simply put, the puddles, the mud, the dirty stones and bits of rubbish they find on their travels will eventually end up in your home, right where you don't want it.
With our dog-friendly fake lawns, you can avoid all of the above catastrophes; no more ruined carpets, dirtied outfits or furniture - what a time to be alive.
What's more, you won't need to mow or fertilise the lawn or try desperately in vain to keep your lawn from going patchy and bald for no apparent reason. That being said, we have a feeling those bald patches may well have been caused by your mischievous pups, too!
Enjoying Your Garden
Thanks to the wonderfully life-like nature of our artificial grass for dogs, your garden will look in tip top condition all year round. Just like your fake lawn will allow rain to drain away, any urine left by your pets will also drain through to the soil underneath.
As well as looking great, this grass is easily cleaned should your dogs do their business on the lawn. Simply collect as you would with a traditional lawn and hose down to remove any further traces. If required, you can even use disinfectant on your garden to eliminate any odours.
Forget about those drizzly mornings spent in the rain waiting for your dog to come in so you can dry their paws; take back control! Enjoy your excitable dog, enjoy lie in's and enjoy your garden. Ahhh - it's a dog's life!